Journalists detained in Amed kept in solitary confinement for 6 days
The number of the Kurdish journalists detained in Amed has increased to 22. The journalists have been held in solitary confinement for 6 days.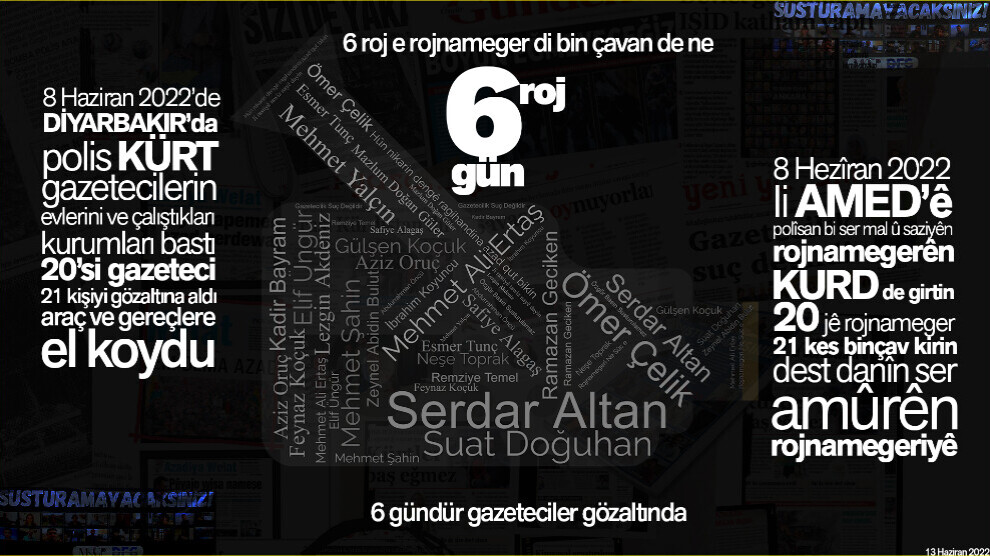 It is reported that one more person was detained following the detention of 21 people, 20 of whom are journalists, on June 8 in Amed (Diyarbakır). The journalists and lawyers have no information about the accusations because the prosecutor imposed confidentiality on the file.
JOURNALISTS HELD IN SOLITARY CONFINEMENT
22 people, 20 of whom are journalists, have been detained in Diyarbakır Provincial Police Department for 6 days. They are not even allowed to meet their basic needs.
The prosecutor prolonged detention periods twice and the journalists will be kept in solitary confinement until June 16.
During the police raids on the offices of the Kurdish press, a large number of cameras, computers and digital materials were confiscated. The police search in the Yenişehir central office of JINNNEWS on June 8 began at 04.30 and ended at 07.20, while the search in Piya and Ari production companies has been going on for 6 days.
NAMES OF THE DETAINEES
The names of 22 detained people, 20 of whom are journalists, are as follows: Dicle Fırat Journalists Association (DFG) Co -Chair Serdar Altan, Xwebûn Newspaper Editor-in-Chief Mehmet Ali Ertaş, JinNews Director Safiye Alagaş, Jınnews editor Gülşen Koçuk, Mesopotamia Agency (MA) editor Aziz Oruç , journalists Ömer Çelik, Suat Doğuhan, Ramazan Geciken, Esmer Tunç, Neşe Toprak, Zeynel Abidin Bulut, Mazlum Doğan Güler, Mehmet Şahin, Elif Üngür, İbrahim Koyuncu, Remziye Temel, Mehmet Yalçın, Abdurrahman Öncü, Lezgin Akdeniz, Kadir Bayram and Feynaz Koçuk and İhsan Ergülen.