Journalists in Van call for solidarity against repression
The journalists in Van, reacting to the attacks against the Mesopotamia Agency office, stated that the AKP-MHP government targets the people who reveal the truth. They called for solidarity.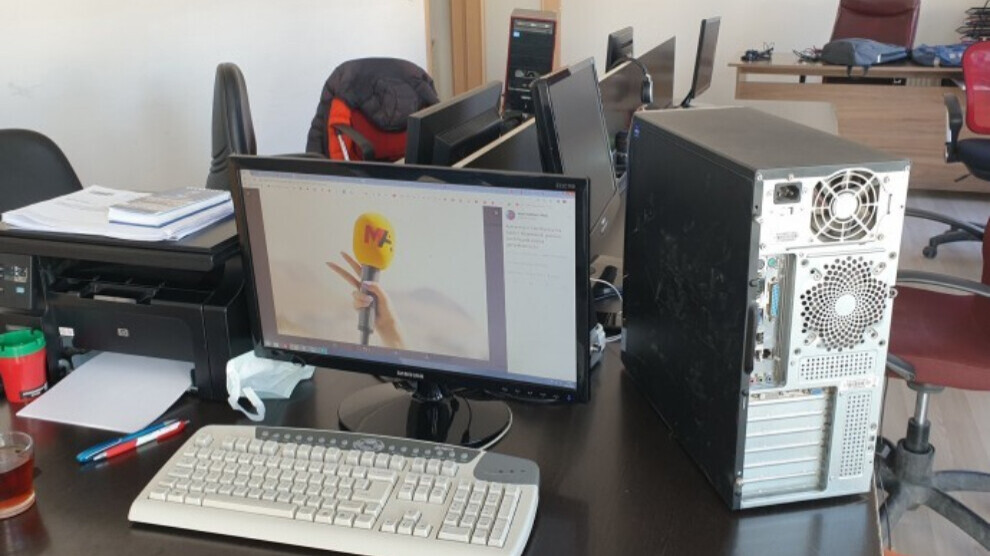 Crackdown continues on Mesopotamia News Agency (MA) Van bureau employees, who revealed the incident of Servet Turgut, who was detained by Turkish soldiers in charge of a military operation in the countryside of Çatak district and lost his life as a result of being thrown from a helicopter together with Osman Şiban. Bureau reporters Adnan Bilen and Cemil Uğur, along with Jinnews reporter Şehbiran Abi and journalist Nazan Sala, were arrested on October 9, and another bureau reporter Dindar Karataş was detained in a police raid yesterday.
While journalist Karataş was being taken to Erzurum, police raided the Van office of MA for the second time.
Journalists working in different media outlets in the city reacted to the increasing pressure on the Mesopotamia Agency and its employees.
TUNÇ: WE WON'T ALLOW UNIDENTIFIED MURDERS
Jinnews Reporter Hikmet Tunç stated that they faced obstacles in almost every news they followed in Van even after the lifting of the State of Emergency (OHAL), and said that investigations are carried out against each opposition journalist working in the city.
Reminding of the 4 journalists who were imprisoned after the news of the two villagers being thrown from military helicopter, Tunç said; "Reporting the situation of two citizens who were subjected to torture and disclosing this are the things that every journalist cannot do under these conditions. We are doing very serious things and we raise our voices despite all the violence. Because we have a responsibility to deliver the real news to the public. We promised to convey these facts even if there is only one colleague left to report news. We will continue to do so under all circumstances. They should be afraid of us. No perpetrators of torture or violation they have committed will remain unknown."
CANDEMİR: THE STATE VEILS, JOURNALISTS UNVEIL
Oktay Candemir, a journalist working in Van for 18 years, said; "Even calling journalists to testify is not right in terms of law, but their homes are raided at midnight, they are detained and their digital materials are confiscated. We have frequently faced these pressures. Journalism activities have almost been banned especially in Van for the last one year."
Referring to the "prohibition of all actions and activities" that has been in place for more than 1,500 days in Van city, Candemir stated that journalists cannot report the news due to the bans. He continued; "Something is veiled in this city. If we start from the helicopter incident in Çatak, as the violations of rights increase, these raids are organized on everyone who reports, writes or draws about it. These raids are organized against everyone who makes relevant news, writes, draws. In this manner, there is a very violent raid against the free press. It is necessary to abandon this immediately. We all carry out journalism. When we go to the police, news articles are put in front of us as a criminal evidence. The news we have made are considered criminal evidence. If you want to know whether there are laws and freedom in a country, look at the situation of the journalists in that country."
TAKVA: BEYOND THE SLOGANS
Journalist Ruşen Takva underlined that it is necessary to go beyond slogans for solidarity.
Takva made the following call to journalists and professional organizations: "Professional organizations need to take urgent steps. We say 'journalism cannot be silenced' but unfortunately the system silences it. We say 'journalism cannot be tried' but unfortunately it is on trial. We say "journalism is not a crime" but journalists are charged in every field. Therefore, we need to go beyond the slogans and put forward something visible hand in hand. "
YILMAZ: WE WILL CONTINUE TO BE THE VOICE OF THE SOCIETY
Journalist İdris Yılmaz also noted that the journalists who report the facts are under judicial pressure.
Expressing that other journalists are too subjected to mobbing with the police raids and detentions, Yılmaz said; "When the office was raided before, new colleagues came immediately. Journalists come voluntarily and take over their friends' pens. They keep journalism going on. Free Press will continue to be the voice of society and it will not surrender to such policies."