Lawyers hold Justice Vigil for the 16 journalists remanded in prison in Amed
Lawyers held their Justice Vigil this week for the 16 journalists remanded in custody in Amed on 16 June.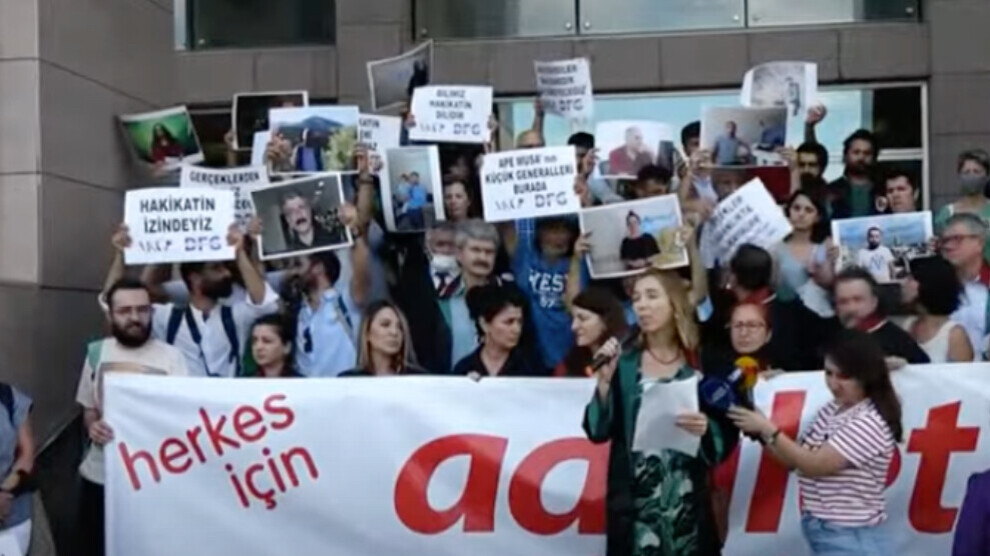 The Justice Vigil, which was launched by the lawyers in Istanbul in front of the Istanbul Courthouse in Çağlayan with the slogan "We are Gezi, Gezi cannot be prosecuted," continued in its 116th week. This week's Justice Vigil drew attention to the arrest of 16 Kurdish journalists in Amed on 16 June.
In addition to the lawyers, Mesopotamia Women Journalists Platform (MKGP), Dicle Fırat Journalists Association (DFG), DİSK Basın-İş, Peoples' Democratic Party (HDP) Istanbul deputies Musa Piroğlu, Züleyha Gülüm and many journalists attended the vigil.
A banner saying "Justice for All" was unfurled, while the slogans "Journalism is not a crime, it is an honor", "This is just the beginning, keep fighting", "Free press cannot be silenced", "Free press, free country" were chanted. In the action, photographs of the arrested journalists were also displayed.
'The State is targeting Kurdish journalists'
Lawyer Damla Atalay sent greetings to the journalists and colleagues in prison, while lawyer Çiğdem Akbulut said: "As in the Gezi sentence, we do not see any law in the decision to send 16 Kurdish journalists in Diyarbakır to prison on 16 June. The arrest decision is part of the state's official policy of oppression and persecution targeting the Kurdish people. In these arrests, law is a tool of political violence. We have to see, understand and expose that the Gezi sentence, the detention of journalists, and the censorship law are a threat to the whole people. We state that we will fight with hope against the repression policies."
Speaking afterwards, MKGP member, Journalist Nezahat Doğan, said: "After the peace talks process, journalists exposed what happened in Sur and Cizre and took the front line to show the unseen to the public. As a result, the news made by the journalists was considered a crime. In particular, attacks on the free press are made to prevent the oppression against Kurds from being exposed.
Our duty is to expose torture in prison and to question it. We do not look at who our news will benefit. We try to reflect what happened so that everyone can see it and draw his/her conclusions. The lawlessness that hit us today will one day hit you too. Joint solidarity is of great importance. We will continue on the road together. Journalists' pens are not broken; their cameras are not turned off."
'Solidarity is important'
DFG member, journalist Mehmet Aslan said: "The free press is facing oppression. The most important thing here is solidarity. When Kurdish journalists were arrested, journalists travelled from Istanbul and Ankara to Diyarbakir to protest this unlawfulness. Such solidarity actions are very important and need to be replicated. For the benefit of the entire society."