Memorial for ANF journalist Murat Kuseyri
A large number of people came together in Stockholm to share their memories and feelings about journalist Murat Kuseyri and said that he left an irreplaceable void.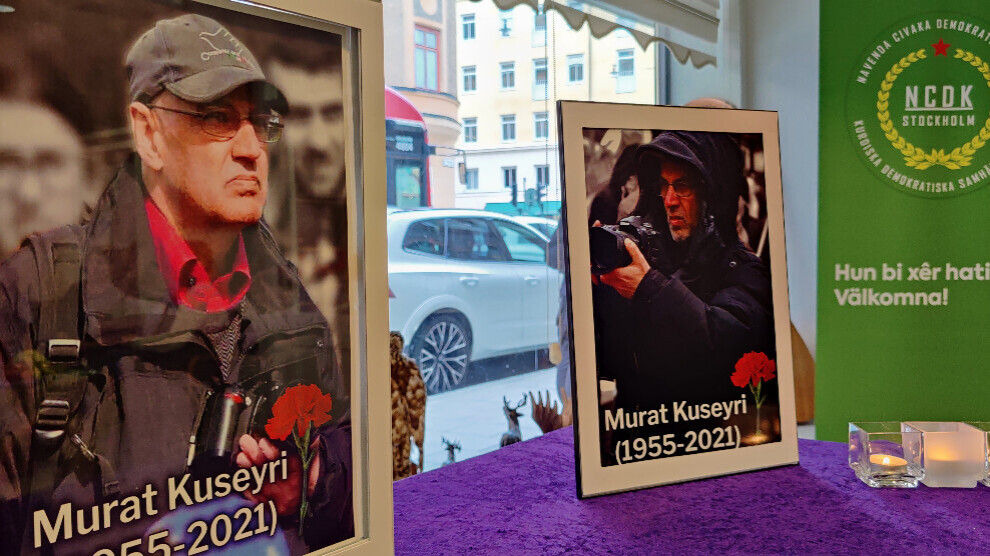 Revolutionary journalist Murat Kuseyri, who died on September 30 due to a tumour in his brain, was commemorated by his friends at an event held at the Kurdish Cultural Center in Stockholm.
His family, colleagues, staff of the Kurdish Community Center, people from the left of Turkey and many friends fighting for democracy were present at the commemoration.
The commemoration started with a minute's silence for all journalists who fought for a democratic society and lost their lives, followed by a message sent by our agency's general broadcast coordination.
Then, Zeliha Kuseyri, the wife of Murat Kuseyri, took the floor. "It means a lot to me that Murat won the hearts of so many people with his camera and pen, and that so many people came together thanks to him. He helped everyone, Murat never sought fame. You've seen this too. He was threatened many times, but he continued to work as a journalist for ANF."
A slide show was presented at the commemoration. Later, journalist and politician Kurdo Baksi, who worked with Kuseyri, took the floor.
Expressing that the loss of Murat Kuseyri left an irreplaceable void, Baksi talked about his years with him and said: "What was important to me was his true journalistic identity, his revolutionary stance and his pursuit of truth. We did a lot of work together. Thanks to his determination, we uncovered many dirty affairs involving Erdogan and the Turkish state. Everyone saw it. Murat was an internationalist. He was on the side of every segment of the world fighting for democracy for their own people. He loved getting people together. It's hard to lose a journalist, but he was my brother more than anything else."
Ayşe Göktepe also took the floor on behalf of the Amara Kurdish Women's Assembly and said that Kuseyri has great faith in the women's movement and that his death is a great loss for them in this sense. Göktepe said: "We always looked for Murat in all our works and actions as the women's movement."
Saniye Akdağ said: "Murat would never buy new and expensive dresses from a store. He would send all his money to those imprisoned for the struggle for democracy in Turkey and to young people who were studying or in need of help. He took care of women and children. He was a person who transferred everything he said into his life."
Amineh Kakabaveh, an independent deputy in the Swedish Parliament, said: "We lost a revolutionary comrade, a very good journalist." She added that Kuseyri has always been on the ground for those in prison, for women's rights, for Abdullah Öcalan's freedom, for Demirtaş. Kakabaveh added that he was a sensitive person who even encouraged them to be the voice of the peoples in parliament.
'He would transfer the voice of the street to us and our voice to the street'
Swedish Left Party MP Lorena Delgado Varas, originally from Chile, also shared her feelings: "The thing I liked most about Murat was that he was on the streets but also in parliament. He would transfer the voice of the street to us, and our voice to the streets. He has interviewed me many times about the Chilean people. He was very interested in the resistance in our country. We desperately need journalists like Murat in Sweden."
At the commemoration, Kuseyri's adopted daughter Nergiz Yıldız, Alevi Federation President Nevin Kamilağaoğlu, Salih Imzaci who works with Kuseyri, Mirhem Yiğit, Karwan Sait, Alevis Association member Ali Çağan, artist Kemal Görgü and writer Hesene Alee also took the floor and conveyed their feelings.