Müftüoğlu: Government crackdown will not subdue free press
Dicle Fırat Journalists Association (DFG) Co-Chair Dicle Müftüoğlu said that no government in Turkey has ever been able to subdue the free press and cannot do so in the future.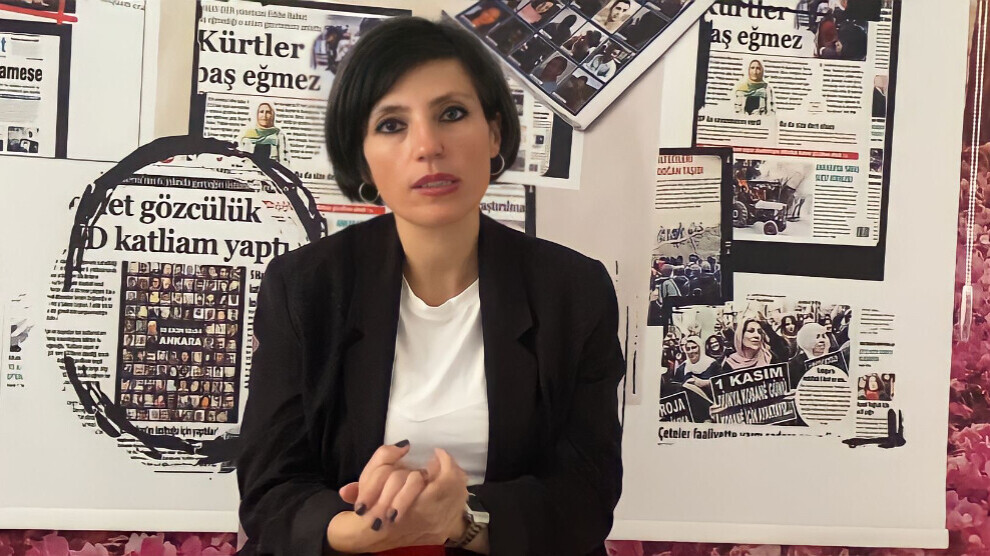 Journalist Dicle Müftüoğlu pointed out that the women journalists who were arrested and others who replaced them were currently more determined to speak their words and reveal facts despite all the violence they were subjected to.
DFG Co-Chair Dicle Müftüoğlu spoke to ANF about the crackdown on women journalists to mark the 25 November International Day for the Elimination of Violence Against Women.
Müftüoğlu maintained that war and isolation are the causes of violence against women and society. "It is unthinkable that women are not affected by the ongoing war. Violence is a phenomenon that sparks other issues. Violence caused by war sometimes appears at home. The reason for this violence is the state. One of the most recent examples of this is the police violence against people who take to the streets to protest the use of chemical weapons. We have seen that women, along with the journalists who report on the protests, are seen as the "weakest link" by the state and thus exposed to violence. We know that oppression and violence are increasing in every public sphere where women want to have a say. The state, the government, the police and the military do not tolerate women's perspectives. Suppression of women has prevailed since the establishment of Turkey. We see that the crackdown on journalists has significantly increased, especially in the last 6-7 years."
FEMALE JOURNALISTS SPECIFICALLY TARGETED
Müftüoğlu called attention to the growing women's struggle against violence against women. "However, we see that the government targets journalists to prevent this struggle. There is huge violence against journalists. When people want to take to the streets and speak, they are faced with violence. Journalists who want to report on protests are also subjected to violence. Most of the victims of violence are women journalists. We've seen it many times."
MESSAGE TO ALL JOURNALISTS
Müftüoğlu recalled the Ankara-based political genocide operation against journalists on October 25. "Turkey was cornered because of the use of chemical weapons by the army and many people demanded an investigation into it. The government decided to deal with this issue by increasing violence. Turkish Medical Association (TTB) head Prof. Dr. Şebnem Korur Fincancı was subjected to violence. She watched footage that showed the use of chemical weapons and requested an investigation. Journalists who made news about the use of chemical weapons were detained by special operations police under very different torture conditions on October 25. With the torture of journalists, the authorities wanted to deliver a message to the public and all journalists. Violence against journalists continued after their detention. Journalist Diren Yurtsever was forced to take a picture in front of the Turkish flag. Journalist Öznur Değer was dragged across the ground by her hair. Even Zemo Ağgöz's baby was subjected to strip-search."
VIOLENCE STEMS FROM WAR AND ISOLATION POLICIES
Müftüoğlu emphasized that state-male violence stems from war and isolation. She added: "Since we, journalists, expose this violence, they want to silence us. The women journalists who were arrested and others who replaced them are currently more determined to speak their words and reveal facts despite all the violence they are subjected to. No government has ever been able to subdue the free press and cannot do so in the future."