Oruç: We are journalists, we are right, and we will write again
In a letter from prison, journalist Aziz Oruç said that jailed journalists longed for the day when the lawlessness would end in Turkey. "We are journalists, we are right, we will go out of prisons and write again," he said.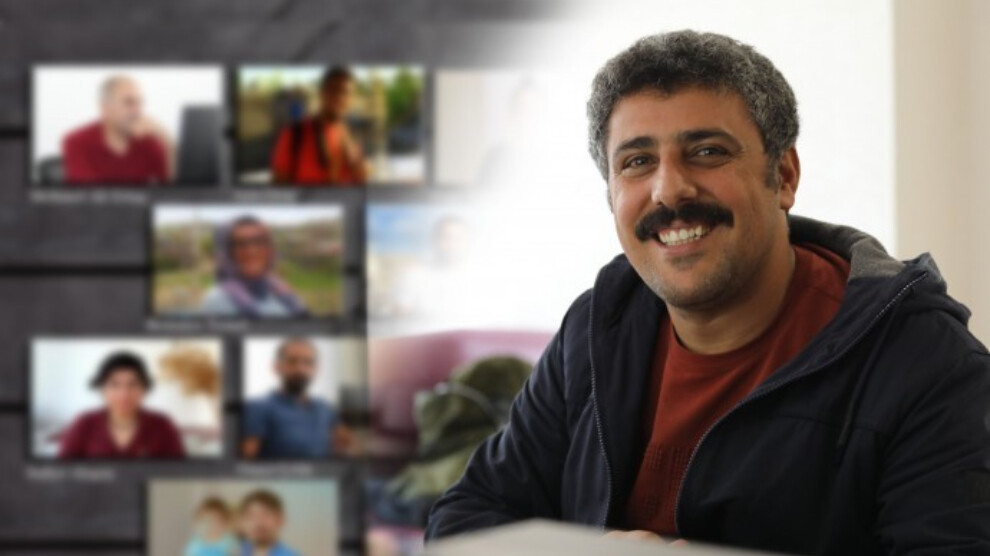 Aziz Oruç, an editor of the Mesopotamia News Agency (MA), who was arrested along with 15 colleagues as part of an investigation carried out in Diyarbakır, wrote a letter about their experience. His letter was written as part of an article series titled "Jailed Journalists Write" published by Bianet news site:
"The economic crisis in Turkey is getting deeper day by day, the purchasing power of citizens is decreasing, and unemployment is increasing. Poverty is imposed as if it were destiny. Uncertainty is snowballing. Elections are looming and political parties are preparing. The upcoming process and political developments will show us what will happen. But it should be underlined that we can determine our own future without leaving it to the politicians. If we want to take a break, we must try harder and fight. We must believe in the power of our word. Otherwise, the situation would be worse. Therefore, we should consolidate ourselves well.
Even though politicians see the main problem of the country as an 'economic crisis', we should not forget that the main problems of the country are democratization, restriction of freedoms and human rights. In a country where oppression is increased and freedoms are restricted, it is impossible to obtain welfare and to end the economic crisis. Political parties have already begun to make fancy promises. Unless the government or the opposition diagnoses the fundamental problem correctly, they cannot offer a permanent solution to any problem. It is impossible to find permanent solutions to existing problems without resolving the "Kurdish question".
FREEDOM OF THE PRESS
One of the important pillars of freedom of a country is 'freedom of the press'. An environment where journalists can freely write, report and are not arrested, and freedom of expression and thought must be constitutionally secured. Unfortunately, I would like to say with regret that it is very difficult to talk about freedom of the press in Turkey. It has been discussed for years, but no solution has been offered so far. Journalists have always been arrested, threatened and censored. This alone explains the current situation in the country and our case.
NO PROSECUTOR LEFT TO WRITE INDICTMENT
For years, governments have distorted the facts and events by disseminating the rhetoric that "there are no journalists in prison in Turkey". Rather than finding a solution to the problem, a deadlock has been imposed. I wish this was true and none of our journalist friends were in prison. I wish I didn't write this letter from a prison. However, this is not the case and I have been in prison for almost two months. On 16 June, 16 journalists were arrested in Diyarbakır. We have been unjustly jailed for months. There is a confidentiality order on the file and there is not even a single prosecutor left to write an indictment, since the prosecutor who made us arrested was promoted after the arrests.
WE WILL DEFEND OUR PROFESSION
However, 16 experienced journalists with years of experience were put in prison unlawfully. The arrest of 16 journalists does not solve any problem and shows the level of press freedom in the country. The facts cannot be silenced through arrests and crackdowns, and journalists do not step back. There has been a long tradition of a free press in the country. Journalists have paid heavy prices. This tradition will not draw to a close with our arrest, nor will the truth be silenced. We believe that our colleagues will continue to do genuine journalism. Wherever we are, we will defend our journalism and we will never compromise the truth.
As I wrote these lines by my prison window with a view of wire mesh, there was a news report on the TV below. This kind of news excites us in the prison where we have limited access to TV channels: "The Turkish Journalists Association (TGC) gave this year's award to 16 journalists arrested in Diyarbakir". I was both happy and proud. But I would like to point out that we are journalists and we do not have to prove it to anyone. These awards are a response to those who say that 'there are no journalists under arrest'. We will defend journalism with the same determination and faith. We will write and reveal the truth and we will be the voice of the people.
CALL FOR SOLIDARITY
We once again realized how important solidarity is during the arrest of 16 journalists in Diyarbakır. It is important to be in solidarity against those who consider journalism a crime. We should expand the network of solidarity "from outside to inside, from inside to outside". Journalists in prison should be contacted more and their voices should be heard more. Together, we can achieve these and overcome difficulties.
We would like to express our gratitude to all our journalist friends, journalism associations and organizations for their solidarity. We should continue to maintain a strong solidarity in the same way.
Despite everything, we are doing well, we are strong and, most importantly, we are right. We are longing for the day when the lawlessness will end in Turkey and we will write again. We are journalists, we are right, we will go out of prisons and write again.
Hope we meet on free days."
Aziz Oruç's envelope address address is: 1 Nolu Yüksek Güvenlikli Ceza İnfaz Kurumu A/Blok 40. Oda Diyarbakır