Petition for journalists Marlene Förster and Matej Kavčič
Friends of the journalists Marlene Förster and Matej Kavčič who have been imprisoned in Iraq have launched a petition to put pressure on the German government to work immediately for the release of the two journalists.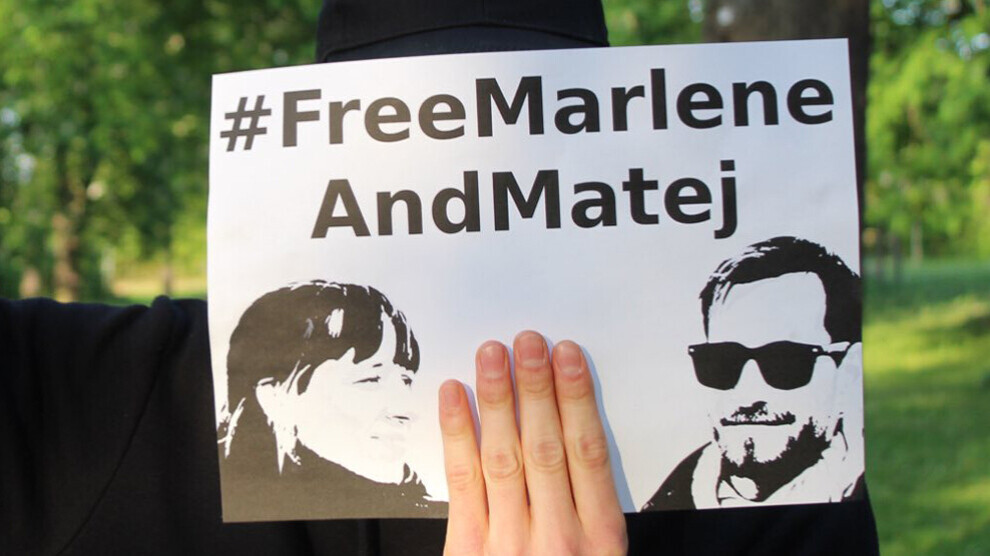 Friends of the journalists Marlene Förster and Matej Kavčič launched an online petition on the Change.org platform. The campaign is aimed at the federal government, in particular at Foreign Minister Annalena Baerbock and the Green Ministry of Foreign Affairs, and calls for immediate action for the release of the Darmstadt journalist Marlene Förster and her Slovenian colleague Matej Kavčič.
#FreeMarleneAndMatej campaign video
The two media workers were arrested by Iraqi security forces on April 20 in Shengal and, after two days of interrogation, were transferred to Baghdad. The Iraqi authorities apparently accuse them of "supporting terrorism". The two were arrested by the Iraqi army shortly before the start of the military escalation in Shengal. The international journalists were thus deprived of the opportunity to report on the attacks.
A week after Marlene Förster's arrest, it became known that she was being held in a solitary cell at the headquarters of the Iraqi secret service. The 29-year-old was on a hunger strike until the first and so far only contact she had via the German embassy in Baghdad, which only came about eight days after her arrest. Matej Kavčič has not allowed to have any contact yet. Slovenian State Secretary Andrej Ster announced last week that Kavčič is being held in a Baghdad prison and that the Foreign Ministry is trying to contact him and secure his release. In the meantime, Germany has taken over the consular support of Slovenian nationals in application of the EU consular directive. So far, however, there has apparently not been a visit to his prison.
Working on a film about the Yazidi community
Marlene Förster and Matej Kavčič have been in Shengal for months. There they worked on a film project about the social development of the Yazidis and their self-government structures, established after the ISIS genocide.
Prominent first signatories support petition
The campaign for the release of Marlene Förster and Matej Kavčič is supported by a large number of initial signatories, including family members, colleagues and politicians. The petition can be viewed and signed at the following link: https://t.co/22JF1QJzi0