Prison administration seizes letter sent to journalist in Şakran, İzmir
A letter sent by the Dicle Fırat Journalists' Association to jailed journalist Sibel Mustafaoğlu was seized by the prison administration.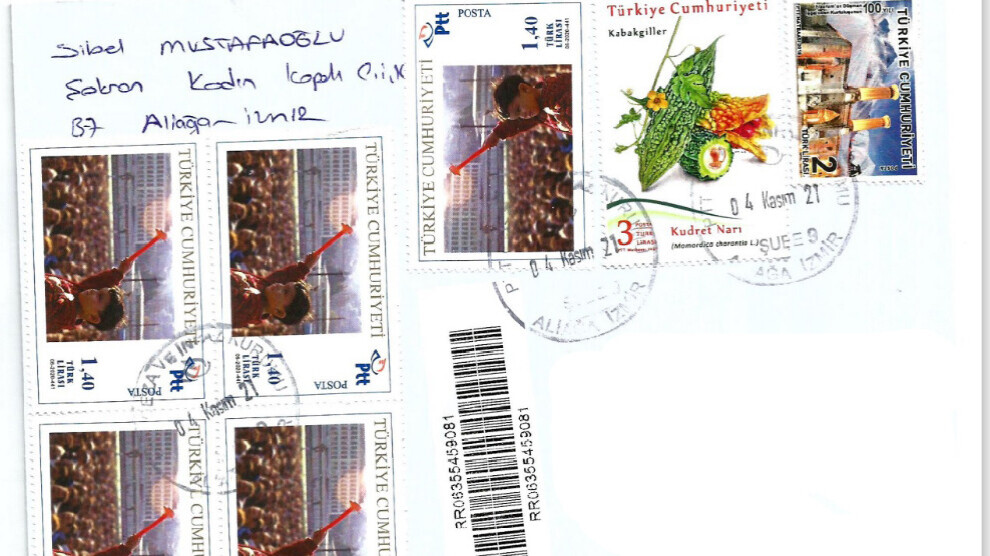 A letter sent by the Dicle Fırat Journalists' Association (DFG) to jailed journalist Sibel Mustafaoğlu in Şakran Women's Closed Prison in İzmir in October turned out to have been been seized. The incident came out when the journalist sent a letter to the DFG after the prison administration gave her a written notice.
In her letter to the DFG, Mustafaoğlu said, "The letter you sent to me was seized since the prison administration decided that letters enable the organization members to communicate and endanger the security of the institution. Naturally, I have no idea about what you wrote.  I wanted to write shortly for your information."
'LAUGHING DESPITE EVERYTHING...'
Mustafaoğlu said that she wrote the letter on October 27 under quarantine.
"I am writing this letter to you under quarantine. I am sitting in my stuffy and moist room. In the past, I used to sit in front of the window to write something. A window that sees a handful of sky can make you say, 'life is worth living everywhere'. However, it makes no sense anymore. Since the top of the open yard is covered, I abandoned my habit of sitting in front of the window and I prefer the farthest place from it after ten years. I used to give bread to the birds. They used to feed on the bread I gave, build a nest and bring their baby sparrows to where I was when they were about to fly. Now they have also left the prison after the closure of the top of the yard. They, too, must have rebelled against the terrible conditions of this place. The place they left is our mandatory residence unfortunately, and despite everything our laughter echoes on the walls, leaving its mark everywhere..
Smiling in prison is like reaching the door of the truth and laughing is going through that door. Because the one who smiles despite everything is the one who discovers the truth. Do you know what it means to lack it in a prison? It is cracking like a wall, rusting like an iron door, aging and fading like a bunk bed, but never being able to get out of that notebook you kept… That's our truth which is alive, rustproof and never gets old."
'I CAN'T WRITE BECAUSE IT WILL BE SEIZED...'
In her letter, Mustafaoğlu pointed out that she could not explain their situation, worried that her letter would be seized. "(...) I cannot write because I know it will be seized by the prison administration. Even a petition I wanted to submit to the Ministry was seized and not sent. These lines may not be able to reach you. My guess is that you are preparing a report on the crackdown against jailed journalists, and you want information on the prison conditions. As I said, I am staying in very harsh conditions – we all are– and there is no possibility of explaining the situation here in a letter," she wrote.
"As dear Halil Cibran said; 'What I wrote was only to explain what I couldn't write. Stay hopeful and resolute," Mustafaoğlu concluded her letter.
DFG: AN ARBITRARY DECISION
Dicle Müftüoğlu, co-chair of the DFG, reacted to the situation, saying "The prison administration made an arbitrary decision. We do not understand how the letters we sent, like those we sent to many other prisons and most of which were delivered, are considered as 'objectionable' in Şakran Women's Closed Prison. Obviously, this is an arbitrary decision of the administration, which is scandalous."