Protests in three cities for jailed Kurdish journalists
Journalists staged protests in the cities of Amed, Van and Mersin for their jailed colleagues, sending cards, letters and books to them.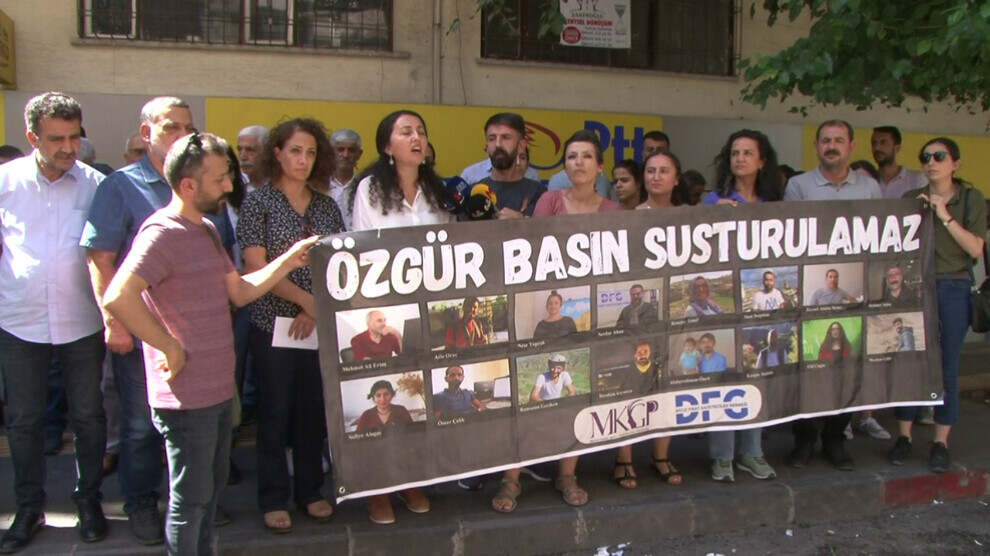 Members of the Dicle Fırat Journalists Association (DFG) and the Mesopotamia Women Journalists' Platform (MKGP) organized protests in Amed, Van and Mersin for 16 Kurdish journalists who were jailed on June 16 after their detention in Amed on June 8. Journalists sent cards, letters and books to their jailed colleagues.
AMED
DFG and MKGP members made a statement in front of the Post Office Department (PTT) in Amed's Yenişehir district as part of a solidarity campaign with the 16 journalists. In addition to many journalists, People's Democratic Party (HDP) Spokeswoman Ebru Günay, DFG and MKGP journalists, and relatives of the jailed journalists participated in the action. MKGP Spokeswoman Roza Metina read out the statement in Kurdish, and the Turkish version was read out by DFG Co-Chair Dicle Müftüoğlu.
"22 people, 20 of whom are journalists, were detained in police raids and held in police custody for 8 days. As part of this operation, JINNEWS Pel, Piya and Ari Production companies were also raided and police seized professional equipment, including cameras and computer hard drives. Offices of the Piya and Ari production companies were besieged for more than a month under the pretext of police search and their employees were prevented from doing job," the statement said.
"Jinnews Editor-in-Chief Safiye Alagaş, Dicle Fırat Journalists Association (DFG) Co-Chair Serdar Altan, MA Editor Aziz Oruç, Xwebûn Newspaper Editor-in-Chief Mehmet Ali Ertaş, journalists Zeynel Abidin Bulut, Ömer Çelik, Mazlum Doğan Güler, İbrahim Koyuncu, Neşe Toprak, Elif Üngür, Abdurrahman Öncü, Suat Doğuhan, Remziye Temel, Ramazan Geciken, Lezgin Akdeniz and Mehmet Şahin were arrested.
Furthermore, the Diyarbakır Police Department displayed cameras and newspaper archives as evidence of crime. We have gathered here today for the 16 journalists who have been deprived of their freedom for more than 3 months. Even though 3 months have passed since the arrest of our friends, the investigation against them has not been turned into an indictment and objections to their arrest have been rejected. An indictment should be prepared in the shortest time and our friends should be released. We would like to emphasize once again that in a country where the press is not free, we cannot talk about freedom. We reiterate our call for the release of all jailed journalists, especially our 16 colleagues, as soon as possible.
We stress once again that we stand in solidarity with our colleagues and invite everyone to join forces in this struggle," the statement noted.
"Every time a concept of war is promoted in Turkey, the government attacks the free press to distort the truth. Kurdish journalists are arrested to this end. The fact that the indictment against our friends has not been prepared for three months shows that this is a conspiracy trial and a revenge operation. Because there is not any criminal evidence in the file other than the news that our friends made. But as it does in all conspiracy trials, the government violates laws by turning the preparation of an indictment into a full-scale torture and revenge operation," HDP Spokeswoman Ebru Günay said.
"Since the arrest of our journalist friends, we have witnessed how the government introduced a war concept of carrying out massacres all over again. That's why they attacked the free press. Undoubtedly, these attacks are not new and journalists who speak the truth are inspired by journalists Apê Musa, Gurbetelli Ersöz, and Metin Göktepe. Therefore, no crackdown has ever intimidated them nor will ever do so. Journalism is not a crime, our journalist friends should be released immediately," she added.
After the statements were read out, the protesting journalists went to the post office to send cards, letters and books to the jailed journalists.
MERSIN
DFG and MKGP members in Mersin sent cards and books in solidarity with the 16 journalists. HDP Urfa Deputy Ömer Öcalan, HDP Provincial Co-Chair Bedriye Kuş, Human Rights Association (IHD) executives supported the journalists who gathered outside the PTT downtown branch today. In a statement, journalist Mahmut Sönmez said that 3 months have passed since the arrest of the journalists and demanded their release.
HDP Urfa Deputy Ömer Öcalan pointed out that the government is trying every way to silence the Kurdish press. "We stand for journalists who promote the tradition of free press." Öcalan recalled that the Ape Musa's case was held in Ankara yesterday. "Unfortunately, his case faces a statute of limitations. The deadline is on September 20 and the court will make its final decision the next day. The crackdown on journalists has been going on for 30 years. What are the crimes committed by the journalists arrested in Diyarbakır?" he asked.
Journalists sent letters and books to their jailed colleagues.
 VAN
DFG and MKGP members sent cards and books to the jailed journalists from Van Central Post Office. A statement intended to be made in front of the post office was banned by the governorship.
Journalists called for the freedom of their jailed colleagues.