RSF: The Erdoğan "hyper-presidency" has stepped up its attacks on journalists
The 21st edition of the World Press Freedom Index, compiled annually by Reporters Without Borders (RSF), sheds light on major and often radical changes linked to political, social and technological upheavals.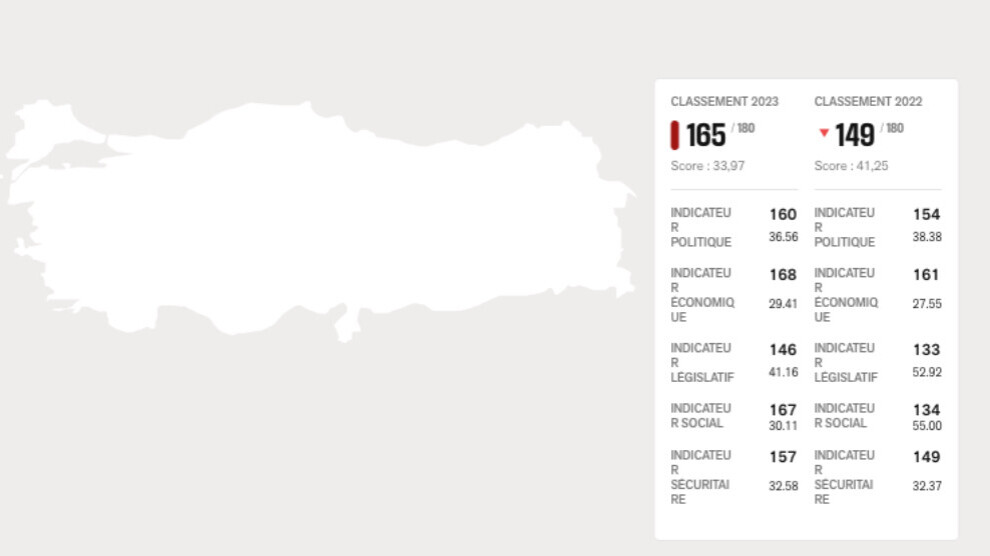 According to the 2023 World Press Freedom Index – which evaluates the environment for journalism in 180 countries and territories and is published on World Press Freedom Day (3 May) – the situation is "very serious" in 31 countries, "difficult" in 42, "problematic" in 55, and "good" or "satisfactory" in 52 countries. In other words, the environment for journalism is "bad" in seven out of ten countries, and satisfactory in only three out of ten.
The situation has gone from "problematic" to "very bad" in three other countries: Tajikistan (down 1 at 153rd), India (down 11 at 161st) and Turkey (down 16 at 165th). 
The Erdoğan administration in Turkey has stepped up its persecution of journalists in the run-up to elections scheduled for 14 May, RSF stated.
"With 90% of the national media now under government control, the public has turned, during the past five years, to critical or independent media outlets of various political persuasions to learn about the impact of the economic and political crisis on the country. They include local TV channels such as Fox TV, Halk TV, Tele1 and Sözcü, and international news websites such as BBC Turkish, VOA Turkish and Deutsche Welle Turkish," the index revealed.
RSF pointed out that: "As the 2023 election approaches, the Recep Tayyip Erdoğan "hyper-presidency" has stepped up its attacks on journalists in a bid to deflect attention from the country's economic and democratic decline and to shore up its political base. However, tactics such as near systematic censorship on the internet, frivolous lawsuits against critical media outlets or the misuse of the judicial system have, until now, enabled Erdoğan to restore his popularity rating, while he continues to be embroiled in a major case of corruption and political clientelism."
According to the index, discriminatory practices against critical journalists and media outlets, such as stripping them of press passes, are commonplace. Judges who do the government's bidding are trying to limit democratic debate by censoring online articles tackling corruption and similarly sensitive topics. This makes it hard to publish quality reporting. Some journalists have nonetheless tried to remain faithful to their mission to report the news with complete independence, and they are demanding recognition of a "media ombudsman".
RSF stated that: "Journalists who criticise or question well-known religious figures are sometimes the targets of lawsuits accusing them of "insult". References to domestic violence or various forms of abuse, especially when made by women journalists, can give rise to social media hate campaigns."
"The spiral of violence targeting journalists critical of the ruling AKP-MHP alliance has intensified since the 2019 local elections. As the 2023 elections approach, ultra-nationalist groups, spurred on by anti-media political rhetoric, are taking to the streets to attack reporters, columnists, commentators and citizen-journalists who cover politics and discuss the economic crisis," according to the RSF's World Press Freedom Index.