Second hearing in trial of 18 journalists to be held tomorrow
The second hearing of the case filed against 18 journalists taken into custody, arrested and released after 13 months in the Amed-based operation will be held tomorrow.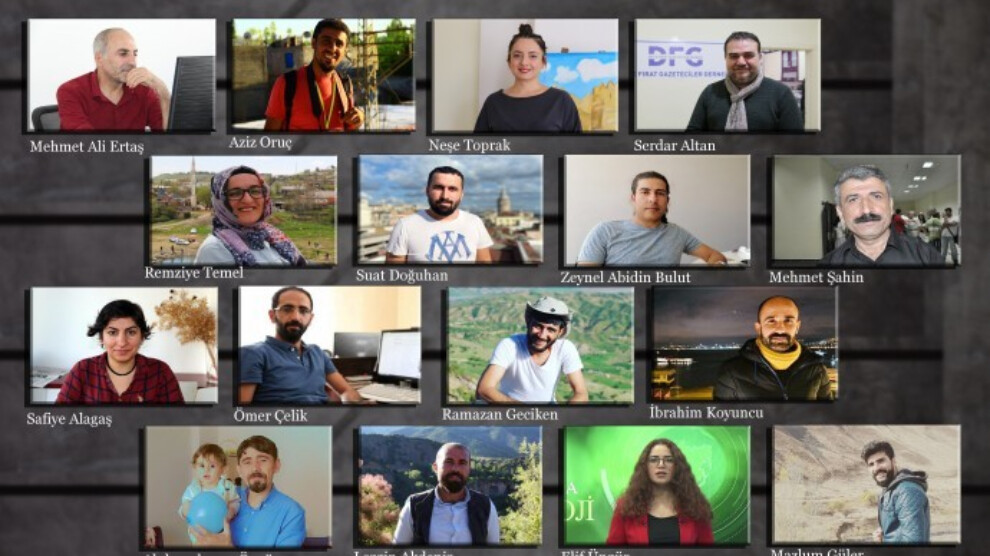 The second hearing of the case filed against 18 journalists, 15 of whom were released 13 months later, who were detained and arrested on 8 June within the scope of the investigation carried out by the Diyarbakır Chief Public Prosecutor's Office, on the allegation of "membership in a terrorist organization", will be held tomorrow.
On trial, in the case to be heard at Diyarbakır 4th High Criminal Court, are: Dicle Fırat Journalists Association (DFG) co-chair Serdar Altan, Mezopotamya Agency (MA) editor Aziz Oruç, Xwebûn Newspaper Editor-in-Chief Mehmet Ali Ertaş, journalists Zeynel Abidin Bulut, Ömer Çelik, Mazlum. Doğan Güler, İbrahim Koyuncu, Neşe Toprak, Elif Üngür, Abdurrahman Öncü, Suat Doğuhan, Remziye Temel, Ramazan Geciken, Lezgin Akdeniz, Mehmet Şahin, Kadir Bayram, Esmer Tunç and Mehmet Yalçin.
PEN Norway's Turkey Legal Adviser, lawyer Ceren Uysal, reported on the indictment in this case as part of PEN Norway's Turkey Indictment project. 
She said of the indictment: "The section of this 728-page indictment that related to the defendants begins only after page 346. Despite this dismaying attempt at presenting evidence, these Kurdish journalists have been in prison since June 2022. There is no legal basis for the baseless charges being put forward against these imprisoned defendants. This case file and the other operations being undertaken against Kurdish journalists have only one aim and that is to silence the Kurdish media and to place them under serious pressure."
PEN Norway's Turkey Adviser said of the case: "These defendants were all political hostages and such a case is a shame upon the judiciary of Turkey.  This is a clear case of an attempt to paralyse the Kurdish media in Turkey in the year leading up to an historic election and such silencing of important media voices is a violation of their rights to work as journalists and of their rights to liberty and security."
Uysal added: "We do not see this treatment being meted out in the same way to non-Kurdish journalists and we are alarmed and weary of this blatant discrimination and illegal attempts to shut down the media representing Kurdish voices in Turkey."