TGC: Number of jailed journalists rose to 159 by the end of April
Journalists Society of Turkey (Türkiye Gazeteciler Cemiyeti - TGC) stated that the number of imprisoned journalists has risen to 159 by the end of April in a report titled "Press Freedom and Freedom of Expression".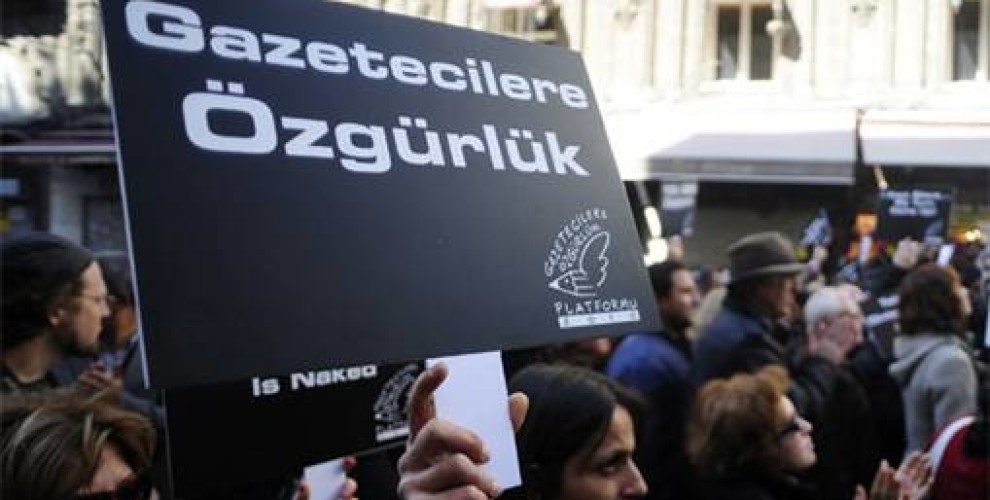 The "Press Freedom and Freedom of Expression" report, also supported by the European Union, listed the increasing violations of press freedom and freedom of expression in Turkey.
According to Şeyma Paşayiğit's article in Cumhuriyet newspaper, there are 159 journalists in prisons while 123 journalists are "wanted".
The Free Journalists Initiative gave a statement on May 16 and announced that with the arrest of Cumhuriyet's online version editor in chief Oğuz Güven, the number of imprisoned journalists in Turkey had risen to 171.
Turkey has become the jailer of most journalists and in the 2016 report by Freedom House, ranked 163rd in the world, and 42nd and last in Europe with 76 points. In the 2016 report by Reporters Without Borders, Turkey's decline is also clearly visible. Turkey dropped 57 places in the last 12 years in the press freedom index, to 155th among 180 countries.
According to the TGC report, in the first trimester of 2017, 46 new investigations and 20 additional lawsuits were launched. The report demands immediate release of all journalists, to be tried without detention and to be cleared of all charges. TGC also demands an end to government and capital pressure and states that journalists properly fulfilling their duties has been rendered impossible and thus the public's right to information has been violated.
The report also points out the increase in censorship and autocensorship, and includes the criticism that it is no longer possible to ban access to information via digital censorship. According to the report, there are 30 acts of digital censorship per day on average in the form of access bans, DNS bans, shutting down websites and other such means.
The report also protests RTÜK's acts of censorship and points out that journalists don't have job security. TGC demands that while fulfilling the duty of informing the public, journalists should have job security, professional organizations should be protected and journalists shouldn't be subjected to slander and accusation campaigns or be left to the whim of the employer.