This month's toll on the journalists in Turkey
The Free Journalists Initiative condemned the detention of journalists Güzüpek and Ertaş and issued a statement on the rights violations journalists in Turkey experienced this month.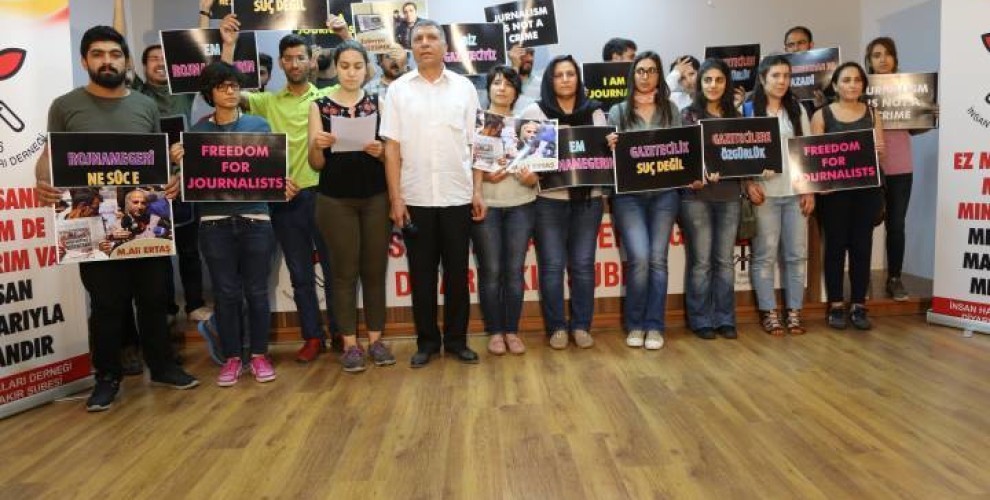 The Free Journalists Initiative (Özgür Gazeteciler İnisiyatifi - ÖGİ) gathered in the IHD (İnsan Hakları Derneği - Human Rights Association) office in Amed to protest the detention of Zekeriya Güzüpek, chairperson of the board for Dicle News Agency (DİHA) which was shut down with a Statutory Decree, and the agency's Kurdish language Editor Mehmet Ali Ertaş, and to announce their report on the rights violations against journalists in the month of May. Journalists attended the meeting with banners that read "Journalism is not a crime" and "I am a Journalist", and posters of Ertaş and Güzüpek.
BOLTAN: THEIR DIGNIFIED STANCE MAKES THE GOVERNMENT CRAZY!
ÖGİ Spokesperson Hakkı Boltan stated that ÖGİ prepared the rights violations against journalists report in great rigor and conscience and added that the journalist who prepared the May report, Ertaş himself, is now in police detention. Boltan said DİHA, where Ertaş and Gözüpek worked, was shut down with a Statutory Decree and the government thinks they can intimidate journalists this way. He added: "But it didn't go as they expected. The journalists continued their journalistic activity in renewed ambition, doing double duty. The fascists, enemies of press freedom and the government-minded people must have lost their minds in the face of this dignified stance as they took our friend in custody in the most incredible manner and method."
ATLAN: THEY WANT TO SLANDER HIM
Journalist Zuhal Atlan read the report in the name of the initiative. Atlan stressed that the same house and the same people were raided twice on a false tip, and said: "The way the police act also clearly shows that there is no tip. The 'tip' is made up and aimed as slander. The goal is to put the journalist in the same scene as guns."
THIS MONTH'S BALANCE
Atlan said, "We demand both our friends, one in custody and one in prison, be released immediately. This is imperative not just for free journalistic activity, but also for the future of Turkey," and announced the following on this month's report:
* 17 journalists taken into custody.
* 8 journalists arrested.
* 13 journalists appeared before a judge.
* 8 journalists were sentenced to a total of 59 years 9 months and 15 days in prison.
* 2 journalists were sentenced to a 14.000 lira fine.
* 1 journal was pulled off the shelves.
* 6 journalists were sued.
* 2 journalists were acquitted.
* 4 were released (to await trial without imprisonment).
* 1 journalist was murdered.