Three acquitted in Özgür Gündem case
Şebnem Korur Fincancı, Erol Önderoglu and Ahmet Nesin have been acquitted on showing solidarity with Özgür Gündem newspaper.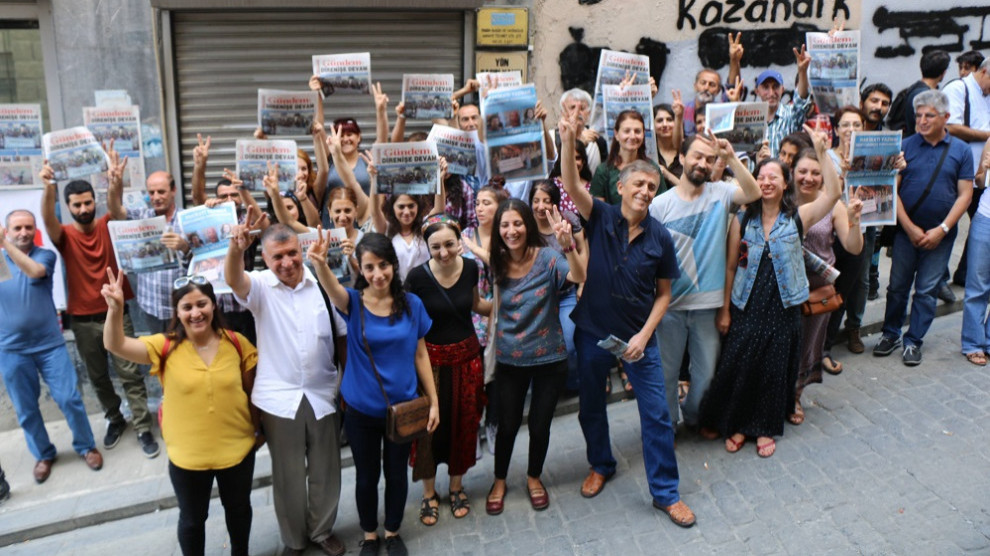 The hearing for the case against participants of the Editor in Chief on Watch campaign to show solidarity with the Özgür Gündem newspaper after it was shut down by a Statutory Decree (KHK) was held today.
Human Rights Foundation Turkey (TIHV) Chairperson Dr. Şebnem Korur Fincancı, Reporters Without Borders (RSF) Turkey Representative Erol Önderoglu and journalist-writer Ahmet Nesin faced a judge for the 10th time in the Istanbul Heavy Penal Court No.13.
Fincancı and her lawyers were present at the hearing while Önderoglu and Nesin are currently abroad and were unable to attend. HDP MP Ahmet Şık, journalist Sanar Yurdatapan, Academics for Peace, Norway's PEN, IPI, an EU delegation, Article 19, RSF, the British Embassy and several civilians attended the hearing.
FİNCANCI: WE SHOWED SOLIDARITY AGAINST PRESSURES
Fincancı said, "We showed solidarity against pressures on Özgür Gündem on the World Press Freedom Day." She recalled that Özgür Gündem was first published on May 30, 1992 and has faced pressure and shut downs since then. Fincancı listed the names of reporters, workers and administrators in the newspaper who were murdered.
Fincancı said: "It is not enough that we use our minds, we must use our minds responsibly. We must criticize the state. If we can't, we can't be responsible citizens. As a human rights defender I did my duty as a responsible citizen. I reject all accusations."
ACQUITTAL
The chief judge said, "We will continue with the trial without waiting for the legal reform or the Constitutional Court verdict. There is no need to wait. We are judges. We have a will."
The panel stated that conditions for a crime were not met and acquitted all defendants on charges of membership to a terrorist organization.