Turkey continues to lead the worldwide decline in press freedom
""The world's biggest prison for professional journalists, Turkey (157th) has managed to fall another two places in the past year, which saw a succession of mass trials."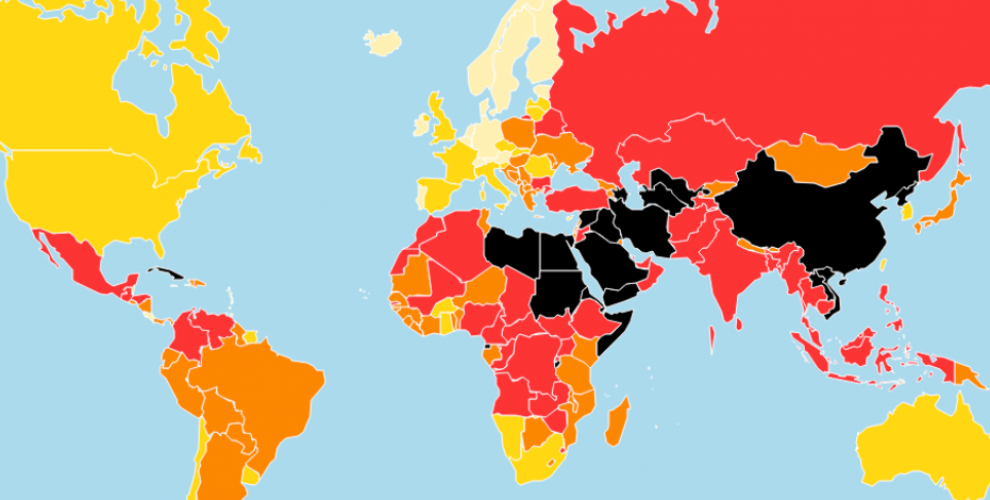 Reporters Without Borders (RSF) has published the 2018 World Press Freedom Index which reflects growing animosity towards journalists, hostility towards the media, openly encouraged by political leaders, and the efforts of authoritarian regimes to export their vision of journalism pose a threat to democracies.
RSF underlined that; "The climate of hatred is steadily more visible in the Index, which evaluates the level of press freedom in 180 countries each year. Hostility towards the media from political leaders is no longer limited to authoritarian countries such as Turkey (down two at 157th) and Egypt (161st), where "media-phobia" is now so pronounced that journalists are routinely accused of terrorism and all those who don't offer loyalty are arbitrarily imprisoned."
According to the index, the former Soviet countries and Turkey continue to be at the forefront of the worldwide decline in press freedom. Almost two-thirds of the region's countries are ranked somewhere near or below the 150th position in the Index. The region's overall indicator has sunk almost as low as that of Middle East/North Africa, the region that is last in the ranking by region.
"Press freedom in Russia and Turkey has sunk to levels that are without precedent in more than three decades, a decline that is all the more worrying because of the influence that these two countries exert on the surrounding region."
The RSF index gave place to the following evaluation and facts;
"The world's biggest prison for professional journalists, Turkey (157th) has managed to fall another two places in the past year, which saw a succession of mass trials. After more than a year in provisional detention, dozens of journalists have begun to be tried for alleged complicity in the July 2016 coup attempt. The first sentences to be handed down have included life imprisonment. The state of emergency in effect for nearly two years in Turkey has allowed the authorities to eradicate what was left of pluralism, opening the way for a constitutional reform consolidating President Erdogan's grip on the country. The rule of law is now just a fading memory. That was confirmed by the failure to carry out a constitutional court ruling in January 2018 ordering the immediate release of two imprisoned journalists."