250 lawyers take action for Öcalan
250 lawyers have taken action to meet with Öcalan. The lawyers held a press conference before they submitted the appeal.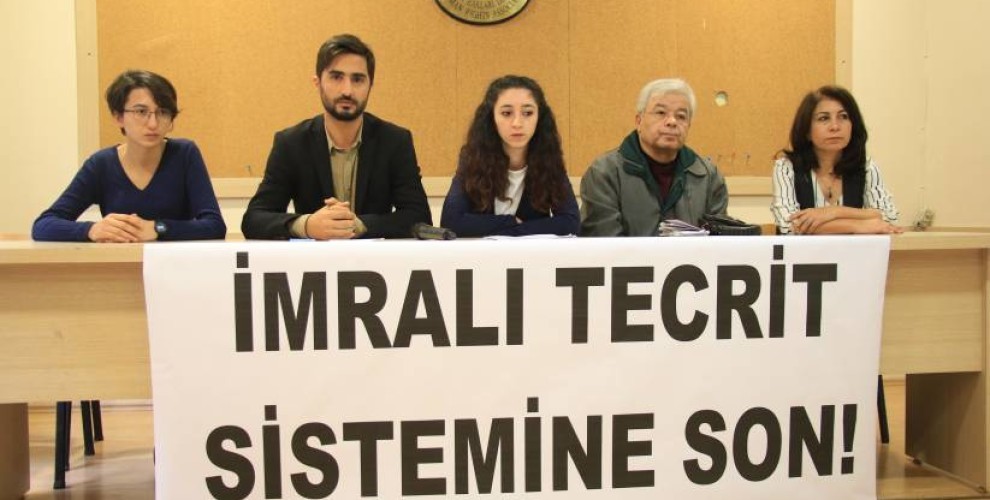 Libertarian Lawyers Platform (Özgürlükçü Hukukçular Platformu - ÖHP) held a press conference in the Istanbul branch of the Human Rights Association (İnsan Hakları Derneği - İHD) about the mass appeal they will be submitting to the Bursa Public Prosecutor's office to meet with Kurdish People's Leader Abdullah Öcalan. Lawyers from the ÖHP and from the Asrın Law Office, the Law Office of the Oppressed and the Contemporary Lawyers Platform and İHD Istanbul Branch Chairperson Gülseren Yoleri participated in the conference.
"THE AGGRAVATED ISOLATION AND EXECUTION REGIME"
The conference hall was fitted with a banner that read, "End the Imrali isolation system" and Lawyer Raziye Turgut from the ÖHP read the press statement. Turgut said 250 lawyers are demanding to meet with Öcalan and continued: "The aggravated isolation and execution regime imposed upon Mr. Öcalan and the other 3 Kurdish political prisoners held in Imrali High Security Type F Prison turns stricter and less acceptable every day. As it is known, Mr. Öcalan hasn't been allowed to meet with his lawyers who would facilitate his monitoring of his legal rights since July 27, 2011."
Turgut said Abdullah Öcalan has only met with his brother Mehmet Öcalan in 2016 since 2015, which was the most peaceful period in the country, and continued: "Since this meeting on September 11, 2016, there has been no news about him or the 3 other prisoners in the Imrali Island Prison with him, Ömer Hayri Konar, Veysi Aktaş and Hamili Yıldırım. The appeals for a meeting have been rejected on physical grounds like a faulty boat or bad weather until July 21, 2016, after which the appeals have been rejected citing the decree by the Court of Executions."
"NO LEGAL BASIS"
Turgut said all communication, correspondence and meeting rights have been suspended indefinitely citing the State of Emergency conditions as an excuse.
"But even the State of Emergency decrees cited as a basis do not create grounds for such a total ban," said Turgut and added: "The articles regulating prisoners'/convicts' meetings with their lawyers for time and conditions have been determined by Statutory Decrees, but in no law or statutory decree is there an article that would completely remove the right to meet with lawyers or family members. Thus, the current situation is a decree without legal basis being implemented through a de facto or administrative decree, which means a suspension of legality.
Turgut stated that the ban and usurpation of almost all legal rights like right to meet with family members, right to meet with lawyers, right to communication and correspondence and right to a just trial and defense is unacceptable.
"MORE THAN THE SIGNATURES FOR MANDELA"
Lawyer Ercan Kanar said, "Mr. Öcalan is one of the two political prisoners who have faced the harshest isolation in the world." Kanar stated that the signatures gathered for Öcalan have surpassed those gathered for South African political leader Nelson Mandela and added: "According to the executions act, isolation is a serious crime, and if it is imposed upon a political prisoner it constitutes political lynching. This isolation imposed upon Öcalan is an isolation imposed upon humanity at the same time."
Kanar stated that the isolation is an attack on the peoples' hopes for coexistence and demanded an end to the practice.
"ISOLATION MUST BE LIFTED, SOCIETY'S CONCERNS MUST BE ADDRESSED"
İHD Branch Chairperson Gülseren Yoleri stated that isolation is a crime against humanity and added: "He needs to be able to meet with his lawyers. The isolation needs to be lifted for him to exercise the rights he will have as well. Society's concerns regarding what is happening in the island also need to be addressed. For these reasons, the isolation should be lifted."