775 lawyers against isolation take action to meet with Öcalan
775 lawyers from 29 bar associations have taken action to meet with Kurdish leader Abdullah Öcalan between June 10-17.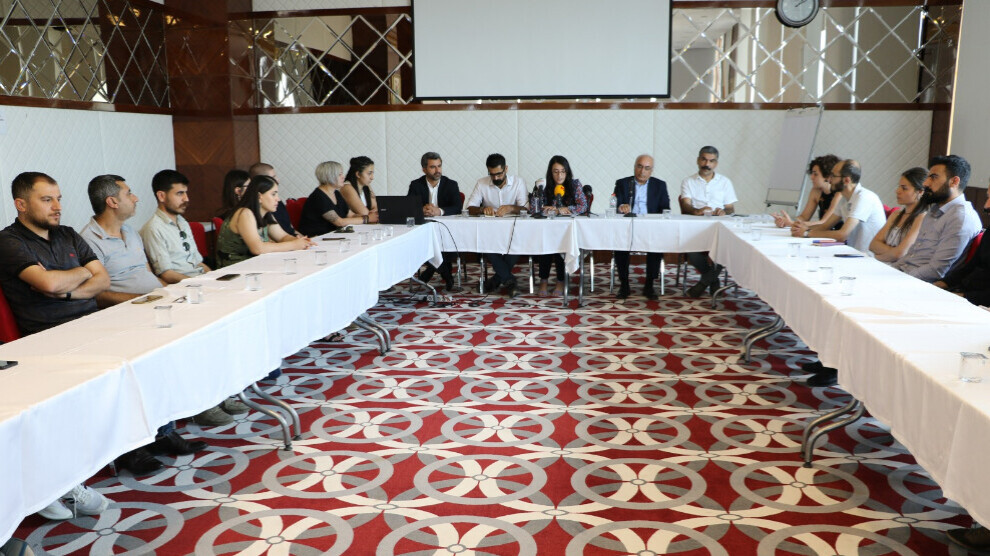 The Association of Lawyers for Freedom (ÖHD) held a press conference at a hotel in Amed (Diyarbakır) to address the ongoing ban on lawyers meeting with Kurdish leader Öcalan and prisoners Veysi Aktaş, Hamili Yıldırım and Ömer Hayri Konar who are held in aggravated isolation on İmralı Island Prison in the Sea of Marmara.
ÖHD Co-Chair Bünyamin Şeker, Human Rights Association (IHD) Co-Chair Öztürk Türkdoğan, Federation of Solidarity with Families of Detainees and Convicts (MED TUHAD-FED) Co-Chair Zeki Baran, Diyarbakır Bar Association Head Nahit Eren attended the press conference, as well as numerous lawyers from Amed, Van, Mersin, Urfa, Hakkari, Batman and Mardin.

ÖHD Central Office Executive Ekin Yeter recalled that no lawyer has met with Öcalan since 7 August 2019, and Hamili Yıldırım, Ömer Hayri Konar and Veysi Aktaş since March 2015, when they were transferred to İmralı Prison.
'CONTRARY TO DOMESTIC LAW'
Yeter noted that no news has been received from Imrali since March 25, 2021, saying, "The suspension of all their fundamental rights by cutting their ties with the outside world for 15 months is a violation of the prohibition of torture. This situation, which is contrary to international conventions and domestic law, raises serious concerns about the detention conditions of the prisoners on Imrali. It is a legal obligation to address these concerns and ensure their right to visitation."
HUNDREDS OF LAWYERS ASK COURT TO MEET ÖCALAN
Yeter announced that 775 lawyers registered to 29 bar associations, including representatives of institutions and bar association presidents, have applied to the Bursa Chief Public Prosecutor's Office to be allowed to pay a visit to Imrali Prison between June 10-17.
ŞEKER: VISITATION BAN IS AGAINST INTERNATIONAL CONVENTIONS
Recalling that the ban on lawyers has been in place since July 27, 2011, ÖHD Co-Chair Bünyamin Şeker stated, "Transferred to Imrali prison in 2015, Konar, Aktaş and Yıldırım have not been allowed to meet with their lawyers since. The ban on lawyers' visits has been in place for years for various reasons. Visitations were blocked for a long time under the pretense of 'adverse weather conditions' and 'broken coaster'. Between 2011 and 2019, lawyers were allowed to meet Öcalan five times after the massive hunger strike protest. The last visit took place on August 7, 2019, and since a phone call in March 2021, there has been no news from him. Although the visitation ban is based on the decisions of the Bursa Execution Judge, it is against international conventions. The ban on lawyers was added to Law No. 5275 after the state of emergency, yet the case in question violates this article. Even though the reason for the ban on lawyers is clearly stated in Article 59, the Bursa Execution Judge maintains the ban."
'LACK OF INFORMATION CAUSES CONCERNS'
Şeker pointed out that the ÖHD and many NGOs had stated on various occasions that the ban is unlawful. "We issued a declaration with 768 lawyers to expose this illegal ban and to urge the Ministry of Justice to respond to this process. We have submitted applications to the CPT and CoE. However, we have not obtained any results. Together with IHD and TOHAV, we applied to the CoE. We could not get any results also from our application concerning 'Aggravated Prison Sentence and the Ban on Lawyers' Visits.'
"Lack of information concerning Imrali prison has caused concerns. We went to the İSLAND prison and applied for an assessment on March 8, 2022. But there has been no response from the Ministry of Justice. In April, we made a collective application under the guidance of the ÖHD. And now, we have applied to Imrali Island Prison as 775 lawyers, including our bar heads and representatives of institutions, to meet the detainees. Members of 29 bar associations are included in this initiative. More applications have been made by some institutions in Europe that stand in solidarity with us. However, the Ministry of Justice insists on this illegality. We renew our call: the ban on lawyers should be lifted. Öcalan and the other 3 prisoners should be allowed to meet with their lawyers," Şeker said.
TÜRKDOĞAN: WE DO NOT ACCEPT ISOLATION
IHD Co-Chair Öztürk Türkdoğan stated that they had demanded the closure of the Imralı prison since the day their association was founded. "The ban on Öcalan and 3 other detainees meeting with their families, lawyers, and their legal guardians goes against execution laws and regulations, international conventions and the 'Mandela Rules'. We endorse the application made by 775 lawyers to meet the detainees. As an institution, we believe that isolation is an unacceptable practice. First, we want lawyers, families and the legal guardian to meet Öcalan. Öcalan's lawyers say: 'How is it possible that we are banned from meeting our client whom we could not meet anyway?' Such arbitrary prohibitions should be brought to an end. I hope the Bursa Execution Judge will accept this application and the government will also take a step. We know that these are all related to the Kurdish question. We state that putting an end to this kind of isolation will be a step towards the reintroduction of the Peace Process."