"Öcalan is the main actor of any the solution"
The 78'ers Association said that isolation of Öcalan should end immediately and added that "Öcalan is the main actor of any the solution."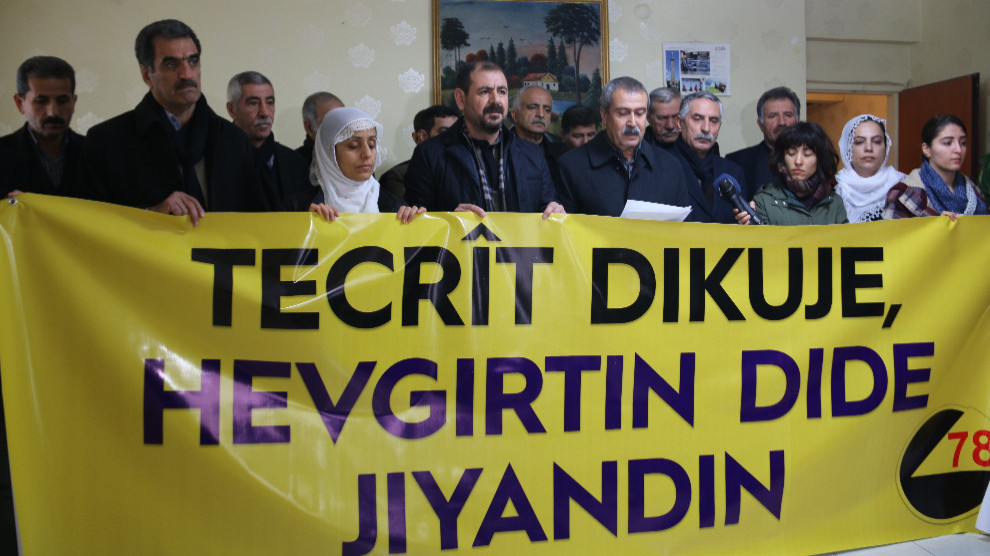 Amed 78'ers Association organized a press conference on the isolation imposed on Kurdish people's leader Abdullah Öcalan.
Peoples' Democratic Party (HDP) Amed MPs Dersim Dağ and Remziye Tosun, HDP Provincial co-chair Zeyyat Ceylan and association executives attended the press conference. "The AKP-MHP government insists on discrimination, denial, isolation just like previous governments and former government officials," said in Kurdish Rıfat Roni.
'Öcalan gives a solution'
Roni pointed out that the hunger strikes carried out by political prisoners in 2012, 2016, 2018 and 2019 ended with a word said by Öcalan, and that Öcalan continues his efforts to find a solution in critical processes. Stating that Öcalan is the leading actor in the solution of the Kurdish problem, Roni reminded that Öcalan's lawyers had not been able to meet with their client from 27 July 2011 until 2 May 2019 and that isolation still continues.
Over 300 sick prisoners in jail
Reminding the isolation of Kurdish politicians, Roni said: "As members of the 78 Association who saw Diyarbakır prison and witnessed the military coup, we carefully monitor the violation of the rights of the prisoners, their health, the number of sick prisoners and the isolation imposed on prisoners." 
According to reports from human rights institutions, Roni added, "there are more than 300 sick prisoners in jail, most of them serious. More than 2,000 prisoners have been in prison for 25-30 years."
Stating that the legal conditions of the prisoners, their health rights should be improved according to international conventions and laws, Roni said: "Let's end the isolation in Imrali and all prisons. Conditions for negotiation must be create."