All evidences point at villagers thrown from helicopter
Police tried to prevent the HDP delegation from talking to the press. Mersin MP Rıdvan Turan said hospital reports consistent with the statements saying that two villagers had been thrown by a helicopter.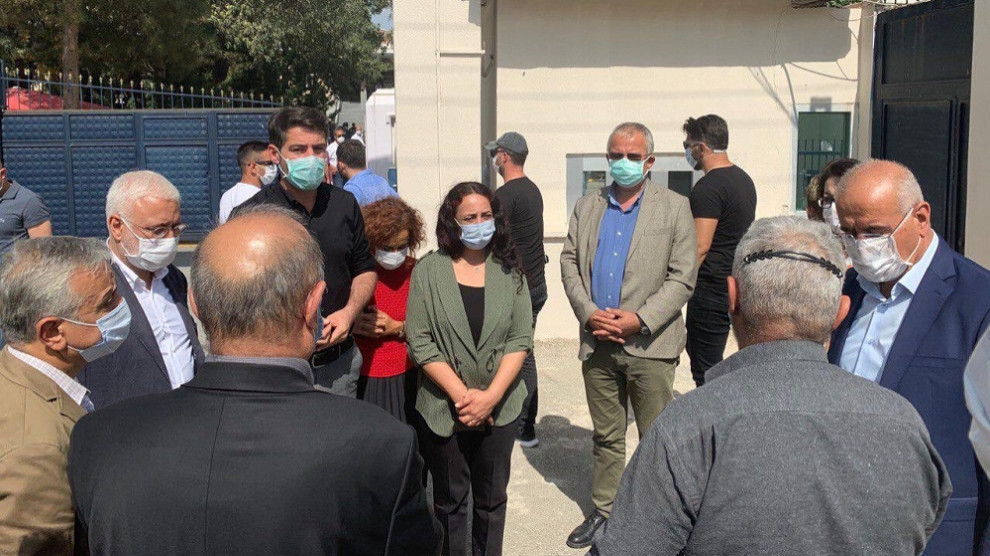 Police tried to prevent the HDP delegation who from making a statement about villagers Servet Turgut and Osman Şiban, who were detained by soldiers in Çatak (Van) on 11 September and thrown by a helicopter.
HDP parliamentary group president, Saruhan Oluç, Van MPs Muazzez Orhan and Murat Sarısaç, Mersin MP Rıdvan Turan, executive from the HDP, DBP, Human and Freedom Party provincial administrators managed to hold the press statement despite the police trying to keep journalists away.
Speaking to the ANF after the statement, Mersin HDP MP Rıdvan Turan, who is also a doctor, said that according to the information they received from doctors, it was confirmed that the two men had been thrown from a certain height. "The injured villagers were in different hospitals, in fact one of them was even discharged, but we learned that they were taken under observation at the military hospital again. Osman Şiban was taken from his house at night and brought to the military hospital. We talked to the doctors at the hospital where our friend, whose condition was more serious, was hospitalized. They said that there was a multiple trauma consistent with a fall from a height. The patient suffered internal brain bleeding because of a blow he received on the head. The doctor said that his situation is not very good. The other villager's situation is better. I am a doctor and according to the findings, I can clearly say that these injuries are caused by being thrown from a height. Considering that there are witnesses saying that the two had been put in a helicopter, it is very likely that they had been thrown from that helicopter."
Noting that all these findings are not confirming the Governor's statement, Turan states that the state ignored the incident: "When we put the pieces together, multiple trauma, falling from a height and the soldiers taking the citizens by helicopter, and we add the witnesses and the fact that the families knew after a time that the two men had been brought to the hospital, we can see that the statement of the governor doesn't stand. The governor said that the two men had fallen from a rock while running away. There is a serious human rights violation, but the state does not admit it. The police tried to prevent us from speaking to the press, that should not report or take images."
HDP Deputy Rıdvan Turan said: "We are witnessing a return to the methods of the '90s in the addressing the Kurdish issue. The situation in the countryside of Van is not at all pleasant at the moment. People who are overwhelmed by such repression come to us and tell us that soldiers are telling them 'if you don't like it go away then'. We see a return of kidnappings as was the case of our young HDP member. The reproduction and acceleration of the 90s concept of total war is very worrying."
RELATED NEWS: