Bodies of 23 guerrillas not given to families for months
The bodies of 23 guerrillas who were martyred in Amanos and then buried in the Cemetery of the Nameless at the behest of Turkish authorities are not handed over to their relatives.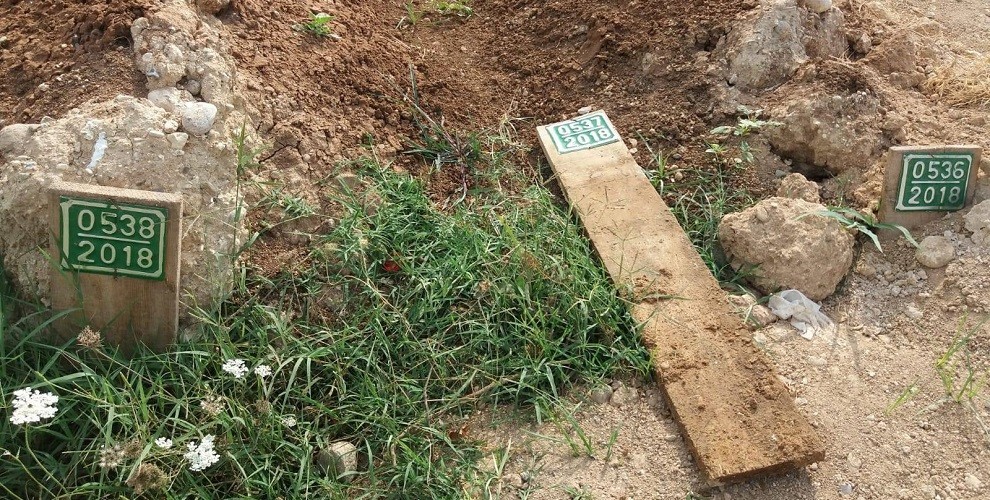 Following the clashes and bombardments by armed unmanned aerial vehicles in the Amanos Mountains near the port city of Iskenderun since the month of March, nearly 30 dead bodies were taken to the Forensic Medicine Institute in the southern province of Adana. 7 of the bodies were identified, and then handed over to families after a match of DNA samples. These were then buried in their hometowns.
The other 23 bodies were buried in the Cemetery of the Nameless in Adana province at the behest of Turkish authorities. Most of these bodies were identified by families but still not given to them.
The Turkish military had apparently resorted again to banned chemical weapons in the air strikes. Relatives of the deceased HPG members reported high levels of destruction and burns suffered by the bodies of the fallen. The burial in the Cemetery of the Nameless is a sign that the Turkish authorities want to cover up the use of chemical weapons, families say. Families gave blood samples for a DNA test months ago. Time and again, according to the forensic institute in Adana, the results of the blood analyzes are not yet available. Families are not able to get an answer about their fallen children, even from the public prosecutors of Osmaniye and Dörtyol to which they were referred.
"WE WANT OUR DEAD"
Mehmet Kılıç, father of HPG guerrilla Süleyman Kılıç, reports the following on his son's death: "On April 4, I received a call from Arsuz District Gendarmerie Station. I was asked if I had a son named Süleyman. When I answered in the affirmative, I was told: 'Your son was killed in a battle in Arsuz. His body can be picked up from the Forensic Institute in Adana'. The next day I drove to Adana. I was shown a corpse that I could not identify because it was burned and deformed. I then gave a blood sample for DNA reconciliation. I'm still waiting for the result today. The authorities should finally hand over our dead."
In its inhumane war against the Kurdish freedom movement, the Turkish army uses again and again prohibited weapons, including in the war of aggression against the northern Syrian canton Afrin.