DBP and HDP pay visit to prisoners' families on vigil for justice
A delegation consisting of executives and members of the Democratic Regions Party (DBP) and Peoples' Democratic Party (HDP) visited the Justice Vigil carried out by relatives of prisoners and said that both families and prisoners are subjected to torture.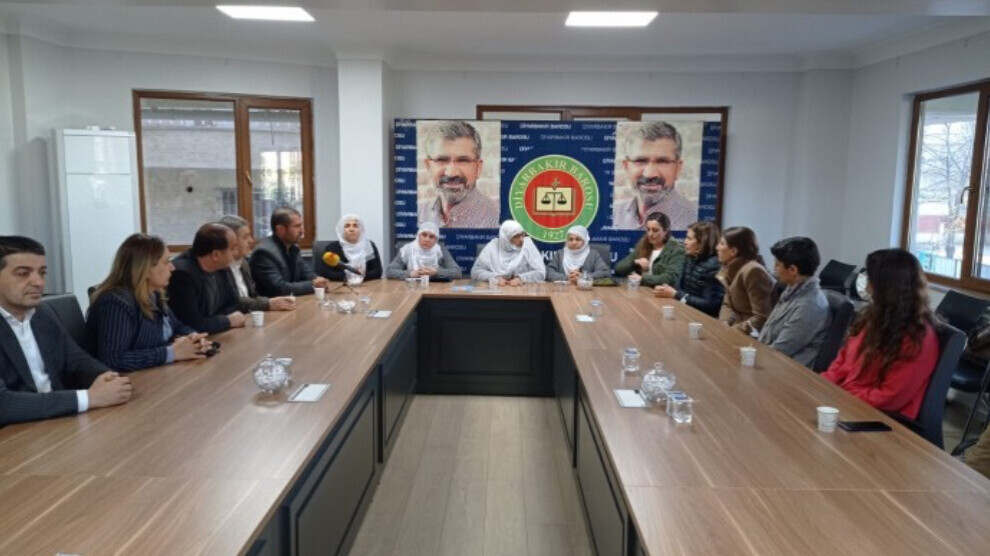 The "Justice Vigil" launched by the prisoners' families in an office of the Amed Bar Association has continued on its 18th day. A delegation consisting of executives and members of the DBP and HDP visited the families today.
Speaking during the visit, Hazro Municipality co-mayor Gulistan Ekti, dismissed from office by the government, said that the vigil initiated by the families was very sacred. Ekti added that the isolation of Kurdish leader Abdullah Öcalan has spread to the whole country and demanded that the isolation be lifted, and the demands of the families be met.
'TORTURE AGAINST PRISONERS AND THEIR FAMILIES'
"We have been following mothers for a long time. All our mothers suffer from injustice. There has been physical torture in Turkey's prisons for a long time. Prisoners and their families are subjected to torture. We will always stand by the families and prisoners against torture. We will do whatever we can," Kayapınar Municipality co-mayor Davut Kesen, also dismissed from office by the government, remarked.
Fevziye Kolakan, a prisoner's relative, underlined that they will continue their actions to the end. "Even if we die, let us die honourably," Kolakan said. "I call out to all mothers. Let's get together and find a solution for our children. Let's say enough of this cruelty. This is where we find our solution. Everyone should join the vigil. No more prisoners should die in prisons," she added.
Author Herdem Merwanî emphasized that the vigil will continue uninterrupted. "We can sit here for years, but they should not keep our sick prisoners in prisons. We are calling out to all parties. Everyone who is engaged in Kurdish politics should raise their voices," the author said.