Demo for lawyers on death fast in Istanbul
A demonstration was held in Istanbul for imprisoned lawyers Ebru Timtik and Aytaç Ünsal. Both have been on death fast for months and were taken to a hospital two days ago where they are threatened with forced feeding.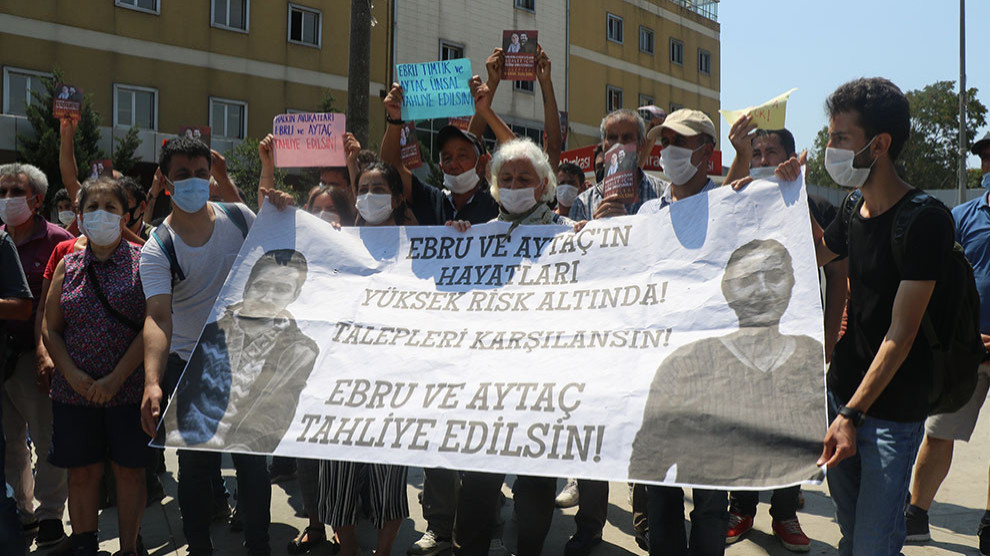 At a demonstration for Ebru Timtik and Aytaç Ünsal in Istanbul, the 'Solidarity for Justice' Platform pointed out the often fatal consequences of force-feeding for hunger strikers and demanded their release. For months, the two imprisoned lawyers have been refusing to be fed, demanding a fair trial. On Friday, a court in Istanbul rejected an application for their release despite the fact that the forensic medicine had determined that they were not fit for detention. As a result, Timtik and Ünsal were forcibly admitted to hospital. It is feared that they will be force-fed.
The rally in the Bakirköy district took place in front of the Dr. Sadi Konuk State Hospital , where Ebru Timtik, who is now reduced to 35 kilos, is being held against her will. Members of the prisoners' aid organization TAYAD and the father of political prisoner Mustafa Koçak, who had died on hunger strike last April, also joined in the protest.
Nesimi Özcan of TAYAD recalled in a speech the case of Koçak, whose hunger strike was violently interrupted on day 254. The 28-year-old had been tied by his hands and feet and maltreated with a stick for force-feeding. 73 of his veins burst when trying to place an intravenous access. Forensic medicine subsequently confirmed that forced feeding played a role in Mustafa Koçak's death.
Ebru Timtik's uncle Yıldırım Tenis pointed out that the demand for justice for his niece and her colleague Aytaç Ünsal is met with complete disinterest from the authorities. "We do not understand why the appeal proceedings are being delayed. Ebru now only weighs 35 kilograms," complained Tenis.
Death fast for a fair trial
Ebru Timtik, a lawyer of the left-wing association "People's Legal Office" (Turkish. Halkın Hukuk Bürosu"), has been on a death fast for 213 days now, her colleague Aytaç Ünsal has refused any food intake for 182 days. With this action they demand a fair trial. Both were sentenced to long prison terms due to contradictory statements of a key witness. The accusations of defector Berk Ercan have led to the arrest of almost 200 people. Among them were several members of the music group Grup Yorum and Mustafa Koçak, who had been sentenced to life imprisonment. All of them were sentenced under terrorist laws in the complex of proceedings against alleged members of the DHKP-C.
Grup Yorum members were also forcibly detained
Helin Bölek and Ibrahim Gökçek, two members of the left-wing music band Grup Yorum, who died this year as a result of a hunger strike, were also admitted to hospital for forced feeding. Bölek died in early April after refusing to eat for 288 days. Gökçek died in May - just two days after he had suspended his 323-day hunger strike.