Demonstrations against the isolation of Ocalan across Europe
Abdullah Öcalan's aggravated isolation conditions and the silence of European institutions were condemned yesterday in Strasbourg, Paris, Graz, Basel, Lucerne, Stockholm, Marseille, Amsterdam, Montpellier and Vienna.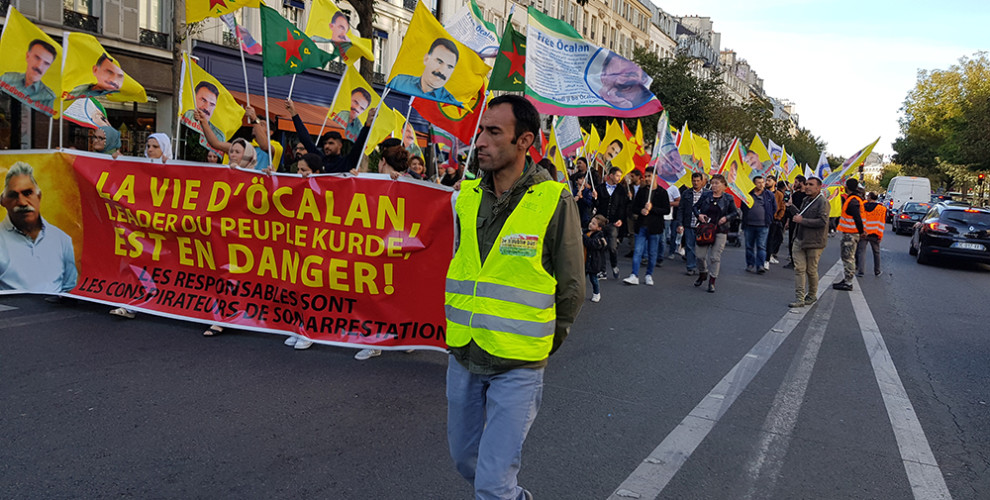 Demonstrations against the isolation of PKK (Kurdistan Workers' Party) leader Abdullah Öcalan in Imrali island prison were held in several European cities yesterday.
The Democratic Kurdish Council of France (CDK-F) yesterday called for a demonstration starting in front of Strasbourg Central Station. Hundreds of people from the provinces of Alsace and Lorraine attended the action.
Demonstrators carried banners on which they strongly condemned the abduction of Abdullah Öcalan twenty years ago, as well as images and flags bearing the portrait of the Kurdish leader. Speeches emphasized that there has been no news from Öcalan for two years and that the Kurdish people are therefore very worried. The Council of Europe, the Committee for the Prevention of Torture (CPT) and the other responsible institutions were urged to finally break their silence on the practices of AKP fascism.
Kurdish and Swiss activists gathered in Lucerne in Switzerland to protest against the German government's cooperation with the Erdoğan regime and against Abdullah Öcalan's aggravated solitary confinement.
In Montpellier hundreds of people demonstrated with slogans calling for freedom for Abdullah Öcalan.
Other demonstrations took place in Paris, Graz, Basel, Stockholm, Marseilles, Amsterdam, Montpellier, Vienna and Cyprus.