HRW: Turkish strikes disrupt water, electricity in North-East Syria
Turkey flouted its responsibility to ensure that its military actions do not aggravate the already dire humanitarian crisis in North-East Syria, says Human Rights Watch (HRW).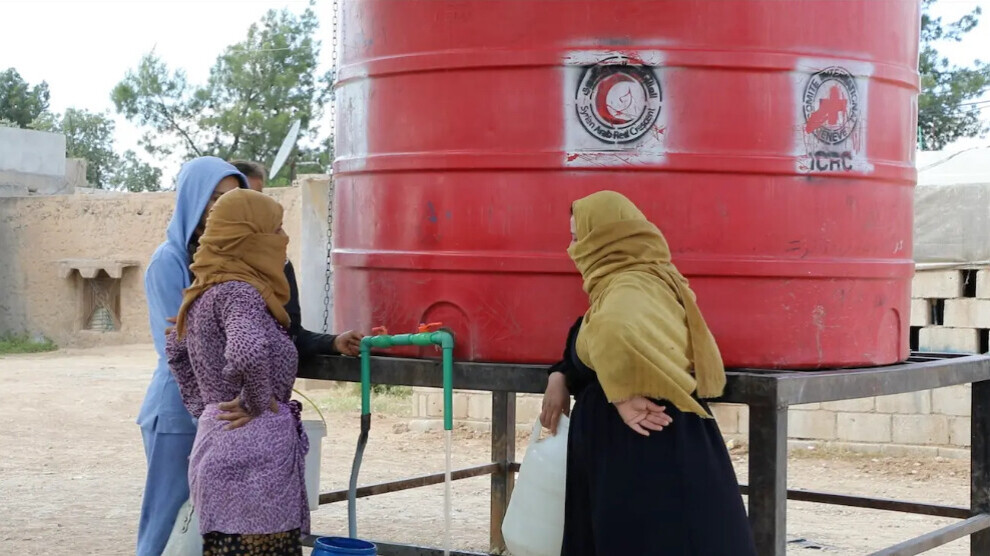 On 5 October, Turkey carried out its heaviest attacks on civilian infrastructure in northeastern Syria for a long time. Numerous armed drones and fighter jets entered the autonomous region's US-controlled airspace and bombed vital facilities such as substations and electricity distribution stations, water pumping stations, oil and gas production facilities as well as petrol stations, dams, factories, a camp for displaced persons and several villages. Among other things, the energy infrastructure of Hesekê, Qamişlo and Amûdê was destroyed, and large parts of the regions are cut off from electricity.
The wave of attacks came after Turkish Foreign Minister Hakan Fidan named "the infrastructure of the Kurdistan Workers' Party (PKK) and the People's Defence Units (YPG) in Iraq and Syria as legitimate targets" and claimed that the two guerrilla fighters involved in the sacrificial action against the Interior Ministry in Ankara on 1 October had been trained in northern Syria and had entered Turkey from there via the highly secured border.
The authorities and defence forces of the Autonomous Administration of North and East Syria (AANES) as well as the PKK rejected this account as a "lie" and spoke of a constructed pretext to launch the war of aggression against northern and eastern Syria that Turkey had been planning for a long time. On Wednesday, the region of north-eastern Syria was targeted by heavy Turkish drone attacks. In the days before, the air force of Turkey carried out several waves of attacks in Southern Kurdistan (Kurdistan Region of Iraq, KRI).
Drone strikes by Turkish Armed Forces on Kurdish-held areas of northeast Syria between October 5 and 10, 2023, damaged critical infrastructure and resulted in water and electricity disruptions for millions of people, Human Rights Watch (HRW) said today.
The strikes on more than 150 locations in north and east Syria in the governorates of al-Hasakeh, Raqqa, and Aleppo, killed dozens of people including civilians, and damaged civilian structures, civic groups said. The Kurdish-led Autonomous Administration of North and East Syria, which governs the targeted areas, confirmed that the attacks on water and electrical power stations, resulted in the "complete cutoff of electricity and water supply" from al-Hasakeh governorate. Critical oil installations and the only operational gas plant for domestic use in northeast Syria were also damaged by the attacks. In the city of al-Hasakeh, an ongoing water dispute since Turkey's 2019 invasion of parts of northern Syria has already been jeopardizing the right to water for nearly a million people, including residents and displaced communities.
"By targeting critical infrastructure across northeast Syria, including power and water stations, Turkey has flouted its responsibility to ensure that its military actions do not aggravate the region's already dire humanitarian crisis," said Adam Google, deputy Middle East director at Human Rights Watch.  "People in al-Hasakeh city and its surroundings, already facing a severe water crisis for the past four years, must now also bear the brunt of increased bombardment and destruction, exacerbating their struggle to get essential water supplies."
According to the autonomous administration, damage to infrastructure caused by attacks that took place between October 5 and 10 impacted an estimated 4.3 million people in northeast Syria with at least 18 water pumping stations and 11 power stations rendered non-operational.
The electrical power facilities targeted include the Sweidiya power plant, a vital electricity source for over one million people, and the north Qamishli electricity transfer station, supporting 40,000 families. The attacks left these critical facilities unable to operate, resulting in a total disruption to both power and water supply services, as of October 18.
Both the al-Gharbi dam transfer station in al-Hasakeh, typically catering to over 20,000 families, and the Amuda transfer station, serving 30,000 families, also remained inoperative as of October 18 following attacks that caused damage to them on October 5. The Amuda transfer station is also responsible for supplying power to Derbasiya transfer station, which in turn powers the Alouk water station.
Alouk station has, over the past four years, faced recurring disruptions even before the recent damage.
Prior to strikes by Turkey in October, the UN had determined that a staggering two-thirds of the country's water treatment facilities, half of its pumping stations, and a third of its water towers had been damaged in hostilities since 2011, contributing to a severe water crisis across Syria in addition to drought, and energy shortages.
The October 2023 strikes are also not the first time Turkey appears to have intentionally targeted civilian infrastructure. Airstrikes in November 2022 also inflicted damage on densely populated areas and critical infrastructure.
HRW pointed out that: "Under the laws of war, Turkey and other parties to an armed conflict must not attack, destroy, remove, or make useless objects indispensable to the civilian population's survival, including for water distribution and sanitation. Governments and de facto authorities are obligated to realize the right to water by ensuring that people under their jurisdiction or other responsibility have access to sufficient, safe, acceptable, physically accessible, and affordable water for personal and domestic uses. They are also required to refrain from interfering, directly or indirectly, with the right to water in other countries."
"Turkey should ensure that Alouk water station operates at optimum capacity without purposeful interruptions to water pumping and should guarantee regular access for qualified repair and maintenance teams. Turkey and other parties to the conflict should also engage with the UN's ongoing efforts to facilitate approval of a monitoring mechanism, and adequate operational and maintenance capacity of Alouk water station and Derbasiyeh electricity substation. The autonomous administration should refrain from purposeful electricity cuts and ensure sufficient electricity to power Alouk station."