IHD denounces situation of sick prisoner Abdülhakim Eşiyok
IHD said that the situation of sick prisoner Abdülhakim Eşiyok was serious and he should be released immediately.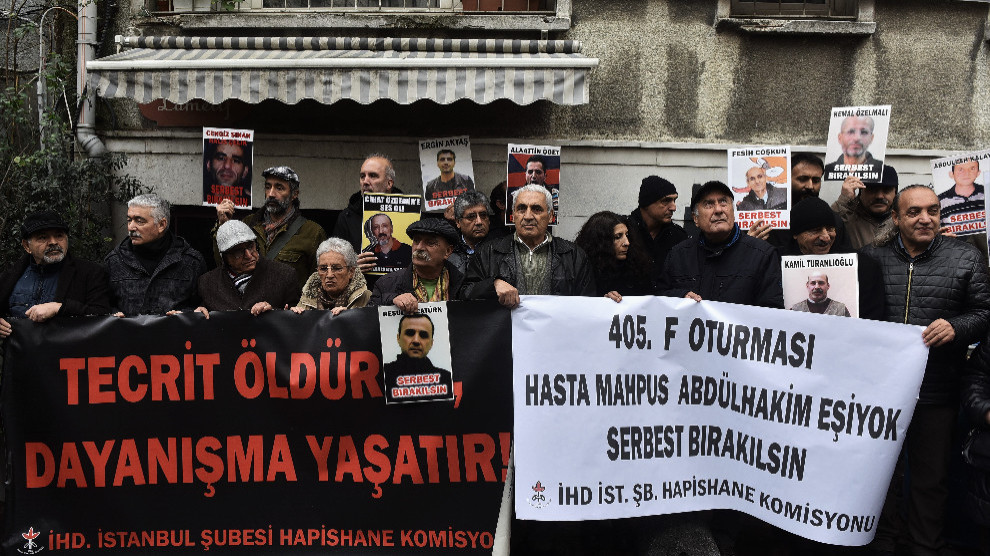 The Human Rights Association (IHD) Istanbul Branch Prisons Commission held the 405th of the weekly 'F sit-in'. The action is organized every week to draw attention to the situation of sick prisoners.
Human rights defender Mehmet Acettin, who read the statement this week, pointed out that sick prisoners can only leave the prison in a coffin because the Forensic Medicine Institute (ATK) reports saying they cannot stay in prisons are ignored by the authorities.
Acettin also reminded of the risks to the health of former HDP co-chair Selahattin Dermirtas who is held in Edirne F-Type Prison and suffered a spasm and was not given the proper treatment a few weeks ago.
Acettin said that the right to treatment of Abdülhakim Eşiyok, one of the sick prisoners struggling for life, is violated. Eşiyok, who was sentenced to life imprisonment by the Erzurum State Security Court in 2001 and is currently in Osmaniye T Type Prison, needs surgery but he is not getting it.
Eşiyok has a 9.5-mm shrapnel in his brain, said Acettin, and needs regular and comprehensive treatment which is not done.