Justice demanded for Mehmetcan Ayşin in Amed
Mehmetcan Ayşin disappeared in state custody 28 years ago. In front of the human rights memorial in Amed, relatives and IHD members drew attention to his fate and demanded punishment for the perpetrators.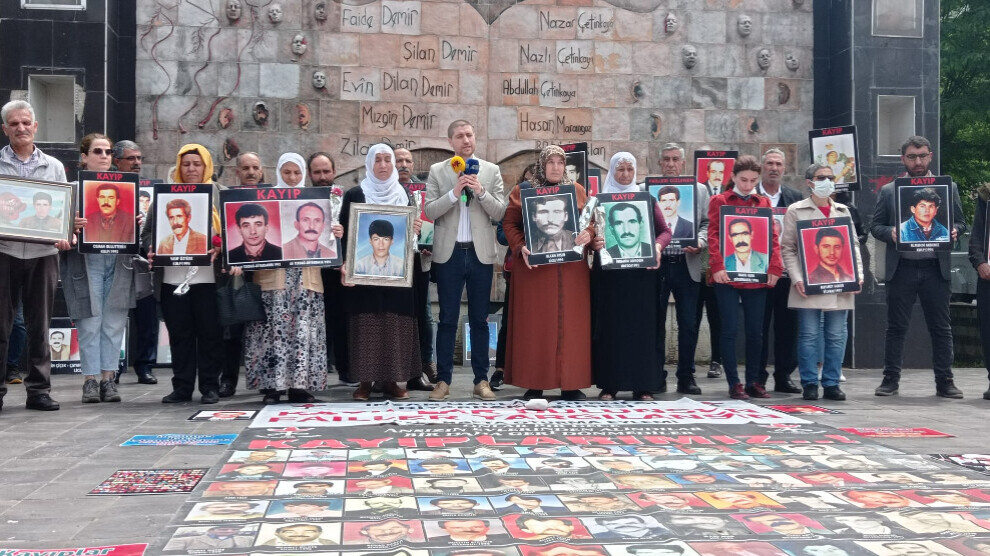 Members of the Human Rights Association (IHD) and relatives of missing persons have gathered for the 691st time for a rally in Amed (tr. Diyarbakir). The rally took place in front of the Human Rights Monument in Koşuyolu Park, and was also attended by the head of the local medical association, Elif Turan.
The IHD chairman in Amed, Abdullah Zeytun, stated at the rally that the sovereignty of the legal system in Turkey has been shelved in a time of anti-democratic measures and violent conflicts. "As human rights defenders, we believe that the Kurdish question can only be solved non-violently. We are not necessarily exposed to serious rights violations and violence. We basically advocate for a peaceful atmosphere. The violence and military operations must stop immediately, we demand concrete steps for a solution," said Zeytun, a human rights lawyer.
At the rallies in front of the Human Rights Monument, as with the Saturday Mothers initiative in Istanbul, each time a case of the "disappeared" is addressed, that is, people who have been missing since their arrest by state forces. In Amed as in Istanbul, relatives today asked about Mehmetcan Ayşin, who was arrested in Lice in 1994 and has since disappeared. Turkish military forces had raided the village of Kılıçlı on May 5, 1994, taking 53 people with them. Except for Ayşin, all those arrested were released in the coming days. Ayşin's relatives were told by the military station that he would be brought before the prosecution and then released. Neither of these things ever happened. The family then turned to the State Security Court and various other authorities. The military command in Lice even claimed that the operation and the arrests never took place.
The relatives have never given up the search. Mehmetcan Ayşin's daughter Aynur Ayşin said at the rally, "I have been searching for my father since he was arrested and taken to Lice 28 years ago. My father was innocent. We will continue to search for the perpetrators until death. Our struggle will continue until our disappeared relatives are found."