Kurdish man from Rojava faces deportation to Syria after 30 years in Turkish prison
ÖHD warns against the deportation of Abdulmenaf Osman from Rojava, who spent 30 years in Turkish custody. He has now been released, but only to be illegally deported to the Turkish-Jihadist occupation zone.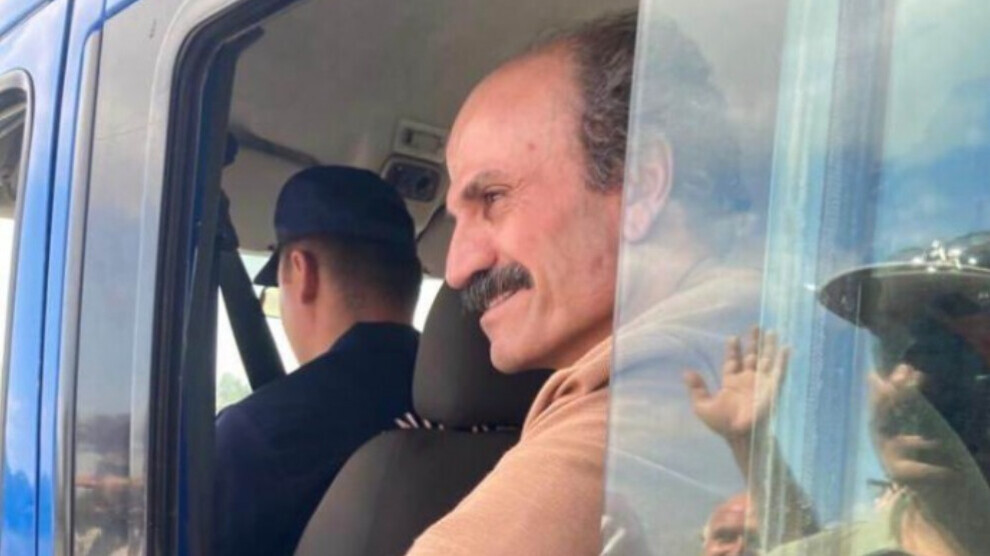 Abdulmenaf Osman, now 58, has spent more than half of his life in Turkish custody. In 1993, he was arrested in the province of Batman and sentenced to life imprisonment by a State Security Court (DGM) in the same year for "destroying the state unity of Turkey". He was accused of being a member of the Kurdistan Workers' Party (PKK). He was 28 years old at the time.
After stays in various detention centres in the country, Abdulmenaf Osman was last jailed in Akhisar high security prison in the Turkish province of Manisa. On Sunday, he was released - but not to freedom. In front of the horrified eyes of his relatives, members of the prisoners' aid organisation EGE-TUHAYDER, the Association of Lawyers for Freedom (ÖHD) and the executive committee of the HDP (Peoples' Democratic Party) provincial branch, who had come to the reception, he was arrested by the gendarmerie on the prison grounds and taken to a police station. Arbitrarily and without a court order, said Osman's lawyer, Halil Coşkun. He is to be deported because he is without status, the Turkish authorities claim. "My client is being subjected to an unlawful, disproportionate and inhumane ordeal to deport him to Syria. There, his life would be in serious danger."
Abdulmenaf Osman is a Kurd from Rojava. He was born in 1965 in Hesekê, where he stayed until he finished high school. He completed a degree in geology in Syria's capital, Damascus. Since the early nineties, he has been back and forth to Northern Kurdistan and Turkey, where many members of his family have been living for decades. During his studies, he devoted himself to literature for the preservation and cultivation of the Kurdish culture and language suppressed under the Assad regime. At first, he wrote for newspapers and magazines, later he wrote novels and short stories. He wrote nine books in prison between 2003 and 2021. He is also the author of the play "Destê Şeş Tilî" (The Hand with Six Fingers), which was performed at the Diyarbakır (ku. Amed) Municipal Theatre. He also translated the poems of the Syrian poet Nizar Qabbani from Arabic into Kurdish.
Actually, Abdulmenaf Osman should have been released from prison last March. But because the political prisoner refused to make a "confession of remorse", the release was prevented twice. A so-called control committee, made up of prison staff, certified that he had a poor social prognosis. Therefore, he was not released despite completing his regular prison term. Since last night, Osman has been in the notorious deportation centre in the western Turkish border province of Edirne. According to lawyer Halil Coşkun, he was taken there in a cloak-and-dagger operation.
Deportations from Turkey to Syria are exclusively to the occupation zone. Whether to Idlib, which is dominated by the terrorist group Haiat Tahrir al-Sham, or to other regions of northern Syria such as Afrin, Serêkaniyê, Girê Spî or Azaz, which are controlled by Turkish troops and the Ankara-controlled SNA (Syrian National Army) - a coalition of reactionary, Islamist and fundamentalist militias, Abdulmenaf Osman's life would be in great danger.
In a statement on Tuesday, ÖHD warned against the deportation of the Kurdish man whose family has been living in Turkey for many years. "His family was not allowed to see our client who was taken to the Gendarmerie Command in Akhisar district of Manisa. During our talk with the gendarmerie, we were not presented with any legal foundation for his detention. Still, he was kept waiting there for 40 hours. We were told that he would be taken to the repatriation centre in İzmir, but it turned out that he had been taken to the repatriation centre in Edirne. We have serious concerns over his possible exposure to the death penalty, torture, inhumane and degrading treatment in the event of being deported to Syria. He is exempted from article YUKK 57/A of the law on foreigners and international protection, which requires his immediate release."