Lawyer on day 215 of death fast: We will win no matter what
The initiative of Peace Mothers in Istanbul has called for the release of two lawyers who are on death fast and are held in hospital against their will.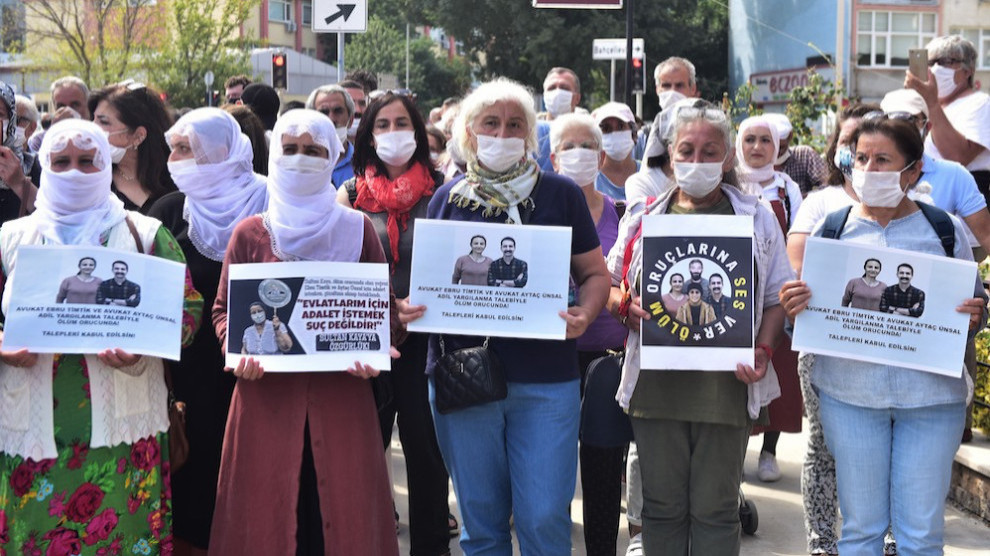 In front of the Sadi-Konuk hospital in the Bakirköy district of Istanbul, crowds demanded the release of imprisoned lawyers Ebru Timtik and Aytaç Ünsal today. Timtik and Ünsal have been on a death fast as political prisoners for months. Despite the fact that they are unfit to be imprisoned, which has been confirmed by the forensic medicine institute, the court has refused to release them. They have been in hospital in Istanbul against their will for six days. Ebru Timtik is hospitalized in Bakirköy.
The Istanbul initiative of Peace Mothers organised the rally staged on Tuesday. In the name of the mothers, Güler Buğday gave a speech in Kurdish and recalled that the initiative has been fighting for peace and justice for 25 years. That is why they are here today, because Ebru Timtik and Aytaç Ünsal also only demanded justice and a fair trial with their death fast, she said.
Afterwards, Peace Mother Sultan Bozkurt took the floor and recalled the hunger strike of a year and a half ago, in which thousands of political prisoners demanded an end to the war and the isolation of Abdullah Ocalan. No more people should die, the demand of Timtik and Ünsal must be met immediately, said Bozkurt.
A message from Aytaç Ünsal was also read out at the rally. In it, the lawyer, who has been on death fast for 184 days, said: "With their cheap machinations, they cannot break our will or make us bend the knee. No power can make those who are in the right kneel down. We only demand our right. For all our people we will get our right to a fair trial. I feel that all those who are waiting for us and thinking of us outside the hospital, at home and on the streets are on our side. I love you all very much. We will win no matter what."
The death fast of Ebru Timtik and Aytaç Ünsal
Ebru Timtik is a lawyer in the left-wing association "People's Legal Bureau" (Turkish: Halkın Hukuk Bürosu"). She has been on a death fast for 215 days now. Her colleague Aytaç Ünsal has refused any intake of food for 184 days. Both were sentenced to long prison terms due to contradictory statements of the chief witness Berk Ercan. The charges of this defector have led to the arrest of almost 200 people. They were all sentenced according to terror paragraphs in the complex of proceedings against alleged members of the DHKP-C. Among them are several members of the music band Grup Yorum and Mustafa Koçak, who was sentenced to life imprisonment and died last April on hunger strike as a result of forced feeding.