Lawyers on Vigil: Turkey should comply with the ECHR ruling
Lawyers in the Justice Vigil called for immediate compliance with the ECHR ruling for Selahattin Demirtaş.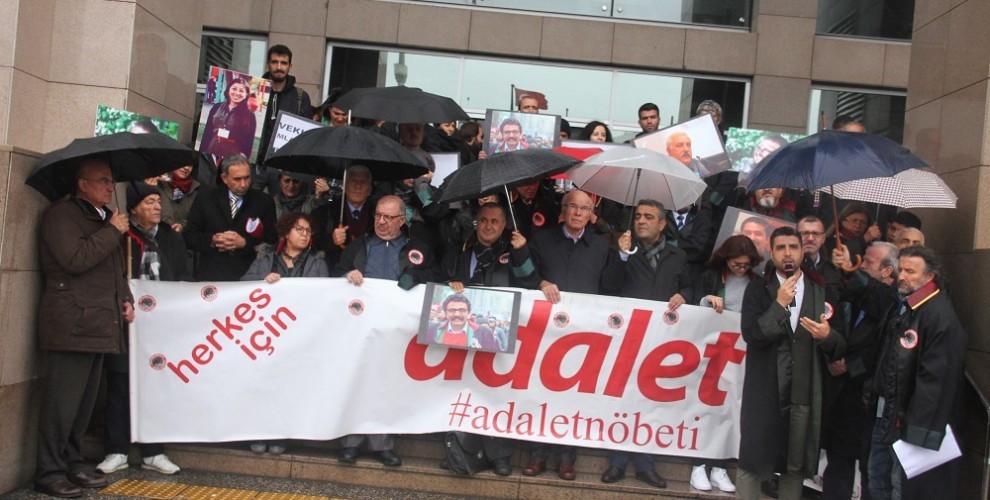 The Justice Vigil lawyers' organizations launched to show solidarity with their imprisoned colleagues was held in the Istanbul Courthouse in Caglayan for the 80th time.
This week's vigil called for compliance with the European Court of Human Rights (ECHR) ruling for the release of imprisoned HDP former co-chair Selahattin Demirtaş.
"INJUSTICE AT THE INTERNATIONAL LEVEL"
Demirtaş's lawyer Ramazan Demir stressed that with the ECHR ruling, the national injustice in Turkey has reached an international level. Demir said it has been exposed once more how politically motivated the justice and trial system is in Turkey.
"THE ECHR RULING SHOULD BE IMPLEMENTED IMMEDIATELY"
Demir added that Erdogan said the ECHR ruling is not binding for them just as the verdict was announced, and continued: "The President has no right and no authority to say such things. This arbitrariness has no place in a state with rule of law. This is a statement that leaves all of us legally precarious."
Demir stressed that Demirtaş should be released at once, and added: "The ECHR ruling is clear, and should be implemented immediately."
Lawyer Melike Polat protested the detention operation against academics. Calling the allegation against the detainees "tragicomical", Polat said the operation aims to criminalize the Gezi Resistance, which was a reaction by the people.
The lawyers also protested the battering of Lawyer Salih Bakis and demanded the release of all arrested lawyers.