Lawyers' organisations press charges against Erdogan and ministers
In Istanbul, lawyers' organisations have filed criminal charges of intentional homicide against President Erdogan, his ministers and all those responsible for the scale of the earthquake disaster in Turkey.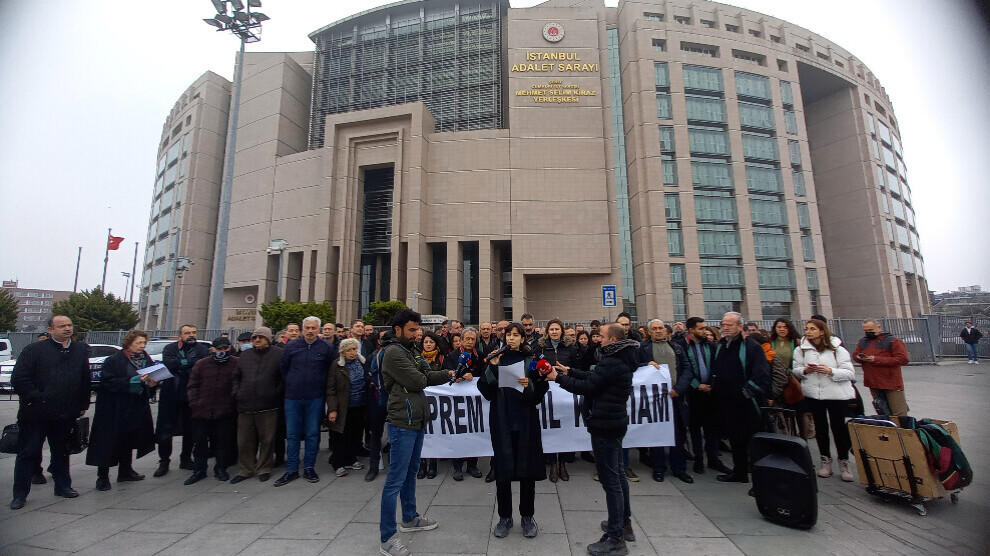 Lawyers' organisations have filed a criminal complaint at the Istanbul Palace of Justice in Çağlayan against President Tayyip Erdogan and the responsible ministers for not fulfilling their duties before and after the earthquake. In front of the courthouse, a joint statement was read out by Esra Bilen, co-chair of the Istanbul Bar Association (ÖHD). In front of a banner reading "Not an earthquake, but a massacre", Bilen stated that although the earthquake is considered a natural disaster, it degenerated into a massacre due to negligence.

Bilen pointed out that all provinces that were severely damaged by the earthquake were previously known as earthquake zones. Despite this, she said, non-resistant and illegal buildings were erected on unsuitable land.
"PREMEDITATED MURDER"
Many public buildings, schools, hospitals, student dormitories, bridges, railways, highways and electricity and water supply infrastructure were damaged in the earthquake, Esra Bilen said, adding: "People were left under the rubble of these buildings. The serious damage to public buildings constructed by the state is mainly due to the improper selection of the building ground or the failure to construct a structure suitable for the building ground, as well as the violation of the relevant legislation. It must be clearly stated that any loss of life due to this situation is premeditated murder."
CRIMINAL CHARGES AGAINST ALL THOSE RESPONSIBLE
Bilen stated: "Criminal charges will therefore be filed with the Chief Public Prosecutor's Office against the President, the relevant ministers and all those responsible for intentional homicide and injury combined with negligence and dereliction of duty. The charges will be filed against the President of the Republic and all ministers, the governors, mayors and trustees in the earthquake zones; the contractors who built the collapsed buildings; the architects and engineers who worked out these construction projects; the control engineers who issued construction permits; officials of the construction supervision authorities, in short: all suspects whom we have identified and whom the prosecution must investigate ex officio."