Lawyers staged 79th Vigil for Justice
Lawyers demand freedom for their colleagues and an end to the attacks on lawyers.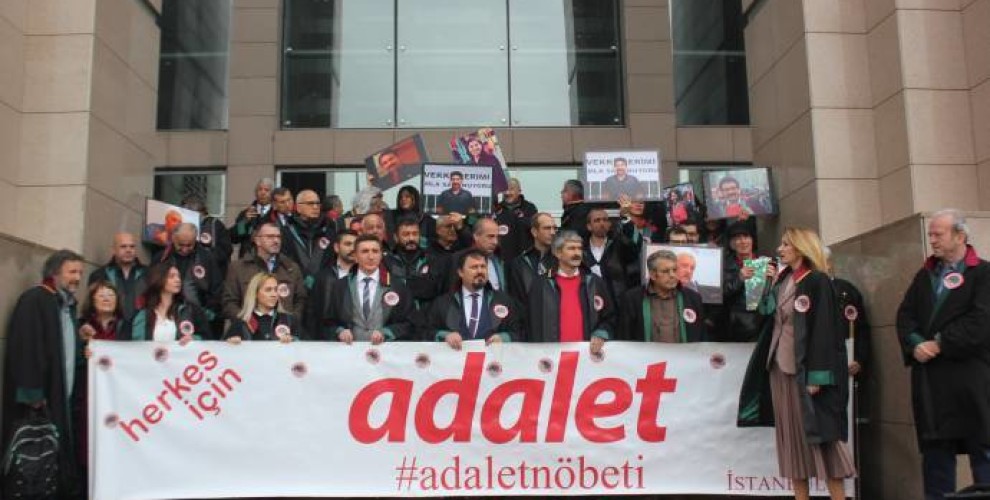 Lawyers have demonstrated for the 79th time in Istanbul to demand freedom for their colleagues and an end to the attacks on lawyers.
Speaking at the 79th week of the Vigil for Justice, Gürkan Altun, President of Bursa Bar Association, said: "There can be no justice without lawyers". For this, he added, lawyers will fight until a real justice system is established.
 The Justice Vigil was launched by lawyers to demand the release of their detained colleagues in front of the Courthouse in Çağlayan, Istanbul. 
At the Vigil in front of the statue of Themis in the atrium of the courthouse a statement was read and a banner saying "Justice for all" carrying the pictures of lawyers in prison was opened.
Candemir: No justice without lawyers
The President of the Kocaeli Bar Association, Bahar Candemir, said that the fact the Vigil for Justice has reached week 79 shows that there are serious problems in Turkey's legal system. Candemir stated that the right of the defendants to achieve justice and the right to a fair trial became impossible. "Therefore, - Candemir said - it is clear that defense right has also suffered from the blows directed against democracy. Without lawyers there can be no justice".
"We did not remain silent, we won't remain silent"
Bursa Bar Association President Gürkan Altun said that the country is experiencing the darkest days in the history of law and democracy.
Altun pointed out that many of his colleagues had been subjected to pressure, threats and violence while performing their profession.
"There is a systematic attack directed to the lawyer. - he said - We reiterate our commitment to stop against unlawful approaches and practices, which may result in a lawyer-free trial that may in turn result in a complete narrowing of the field of activity of lawyers".
Reiterating that there is "no justice without lawyers", Altun said: "We, the lawyers, have resisted the pressures, arbitrariness, lawlessness, throughout history. We will continue to resist. We won't stay silent. We will continue our struggle until a real justice system is established in our country and a real state of law is established"