MEBYA-DER: Authorities deliberately delay delivery of guerrilla' remains to families
MEBYA-DER found that the Turkish state did not deliver the guerrilla's remains to their families despite their identification and added that this for the families was another torture.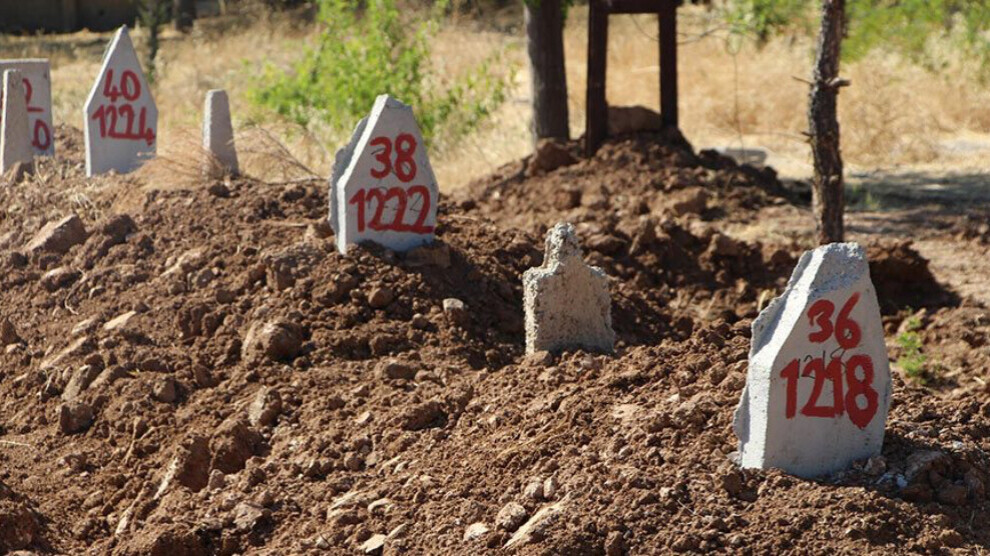 Serhat Küçük, Şırnak co-chair of MEBYA-DER (association in solidarity with families who lost their relatives) drew attention to the persecution imposed on families over the remains of their guerrilla children.
The remains, which were taken to the Şırnak State Hospital Morgue, are not delivered although they are identified by the families and a DNA test is ordered. Blood samples taken for DNA testing are arbitrarily left in a corner for months. Most remains are buried in the areas of cemeteries left to nameless people without even waiting for the test results.
Serhat Küçük said: "We have been facing very serious difficulties since we took office. The families, who learned that their children lost their lives in the clashes through the press and social media, are coming to the hospital in Şırnak. Even if they recognised their children, they are not their bodies and have to undergo a DNA test. The result of the DNA test is known within 10-15 days at the latest. But the results of the test done by these families are not available for 6-7 months. When the DNA result comes out, the families are not informed on the same day and the informing process is extended. During this time, the bodies in the morgue are buried in the cemetery of the nameless."
Küçük added: "Families cannot sleep until they receive their children's remains and they are actually tortured by these procedures."
"MEBYA-DER is trying to help. – said Küçük - But we can only help to a certain extent. When families with matching DNA come here, they expect to receive the body that very evening. Then they are given the remains of their children on condition that only the mother, father and a few people attend the burial process. Families cannot bury their children as they wish."
The MEBYA-DER official also addressed the families: "Families do not need to go to the place where the incident took place for DNA testing. Every family can apply to the prosecutor's office in the place where they are located. They don't need to travel long distances for a test."
Noting that 8 families, who gave the DNA sample a year ago, came to Şırnak recently, Küçük said that only three of the families were able to get their children' remains.
Küçük denounced that the authorities inform the families in a totally arbitrary way and called for this practice to end.