Over 13,000 rights violations registered in Van during OHAL
Over 13,000 people in Van have been affected by the State of Emergency in Van province during the past two years.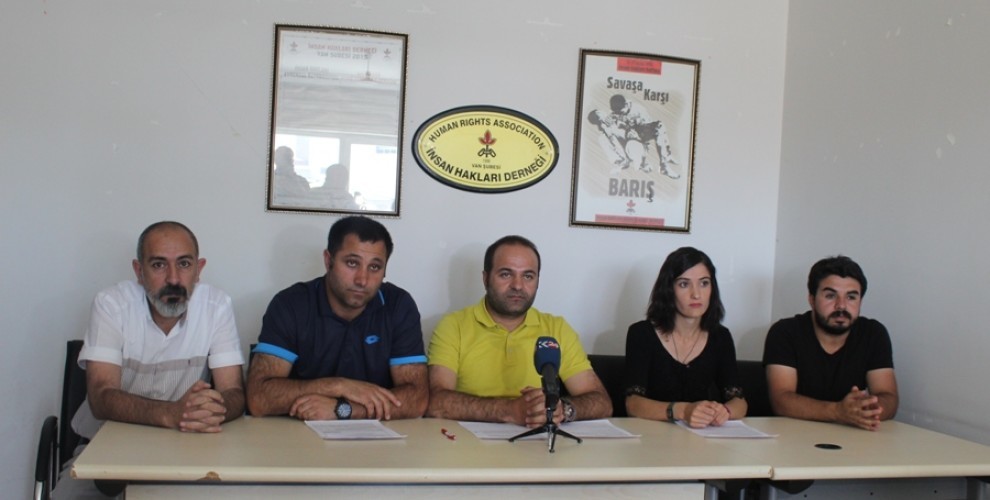 The Van Branch of the Human Rights Association (IHD) has published a report of rights violations in the city during the State of Emergency (OHAL) period.
IHD Van Branch Chairman Murat Melet and branch executives attended the press conference held at the IHD branch.
Melet said that despite the talks about the lifting of the OHAL, in reality the new proposals discussed in Parliament are nothing but a way to ensure the OHAL will continue, albeit in different ways.
Melet confirmed that the IHD will continue its struggle for human rights, a struggle which the organisation has been carrying out for 32 years.
"125,800 public officers have been dismissed from their work during the period of OHAL", said Melet. 
Pointing out that the State of Emergency is affecting the rights of all the 81 million population in Turkey, as their rights and liberties are violated, Melet added that "the OHAL has led to segregation and polarization in Turkey".
Pointing out the presence of at least 7 suspicious deaths in Van, Melet said that 5 civilians lost their lives in the conflicts in Van under the OHAL, while families of HPG members who lost their life in clashes were not able to get the bodies of their children.
The State of Emergency also hit children: 5 children committed suicide in Van, said Melet, while 17 children were exploited, with domestic violence affecting children the most. Four women were killed and one woman was wounded while 6 women and 1 man committed suicide for reasons related to domestic violence.
In Van, 17 people were subjected to ill-treatment and 19 detainees were tortured in the prison during a 2-year period, said Melet who added that 1,573 people were taken into custody and 283 were imprisoned for political reasons.
Melet said 3,603 immigrants and refugees were taken into custody in the city and 2 immigrants lost their life on the border.
As to freedom of expression, Melet reported that 3 newspapers and publications in Van experienced pressure, 2 publications were banned and 17 Education Culture Institutions were closed.
"The co-chairs of the 12 municipalities of our province and its districts were removed from office, as was the co-mayor of the Metropolitan Municipality of Van, Bekir Kaya" said Melet.
Melet ended the press conference with the following information on prisoners; "150 people were referred to other prisons, 12 were denied the right to health, 12 were prevented from seeing their family, 1 person could not meet his lawyers, 8 people were kept in isolation and 4 were physically abused".
The total number of violations in Van was determined to be 13,226 said Meletin who added that 3,442 people were removed from their workplace and 1,482 were subjected to administrative investigations.