Prisoners' relatives vow to continue their vigils until justice is served
Families who have been on a justice vigil for prisoners at the Amed and Van bar associations emphasized that they would not accept the persecution against them and would continue to resist.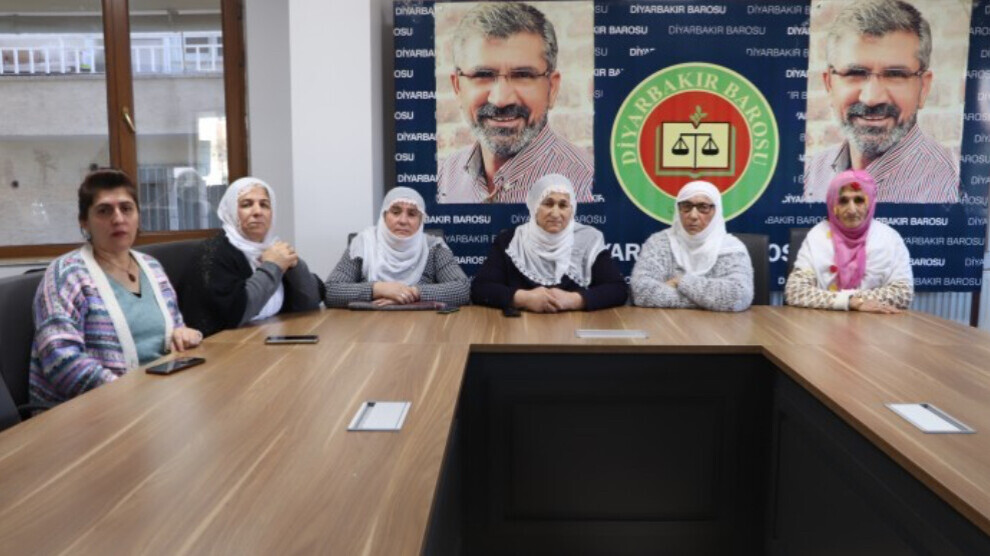 Families are holding a Justice Vigil in Amed and Van cities for an immediate release of the sick prisoners in Turkey's prisons and other prisoners who are denied release. The vigil in Amed is on its 60th day while the one in Van is on its 36th day.
"We are also persecuted like our relatives in prisons. Prison guards searched out mouths during our last open visit in prison. Violence and torture in prisons are on the rise. Let's be the voice of the prisoners who are jailed because they defend life," Inci Güler, a prisoner's relative who takes part in the vigil in Amed, said.
"We will continue to resist everywhere including outside the courthouses and streets. We will never give up our vigil," Reşahat Ada, another prisoner relative, said.
Another activist, Fevziye Kolakan, called for the problems to be solved before the sick prisoners die in prisons. "Our children should not die in those quarantine rooms. I am sick myself, and I do not want to die without seeing my child. I want my child to be brought to Amed," she said.
"We do not want prisoners to die," Nuray Abay, a prisoner's relative, said and added:
"Release the prisoners who have served their sentences. This is not justice. We do not recognize this justice. We want to meet our relatives; we want to have them treated. We do not accept this insult. Despite all this persecution, we do not renounce our Kurdish identity. My relative is jailed in Trabzon, I want him to be transferred to Amed."
VAN
Zübeyde Abi, the wife of sick prisoner Ebedin Abi who has been in jail for 25 years, joined the vigil at the Van Bar Association. Members of the HDP Van Youth Assembly also visited the activists on Friday.
HDP Youth Assembly member Arjin Tuncer said that the justice vigil of Emine Şenyaşar in front of the Urfa Courthouse, the vigils in Van and Amed and the vigil launched by Gülistan Doku's family in Dersim are encouraging for them.
Tuncer criticised the systematic attacks against political prisoners in Turkey and said; "These attacks are carried out to suppress criticism against the aggravated isolation of PKK leader Abdullah Öcalan. The AKP-MHP fascist alliance is now attacking sick prisoners to take revenge."
A prisoner's relative, Meryem Abi, said that they were very happy to see the young people's support for their vigil.
Abi stated that they want justice not only for their own children and relatives, but also for all prisoners and added that they would continue the justice vigil until justice is served.