Renewed attack on Saturday Mothers in Istanbul
After the partly violent break-up of their vigil at Galatasaray Square in Istanbul, the Saturday Mothers were once again attacked by the police in front of the Human Rights Association office.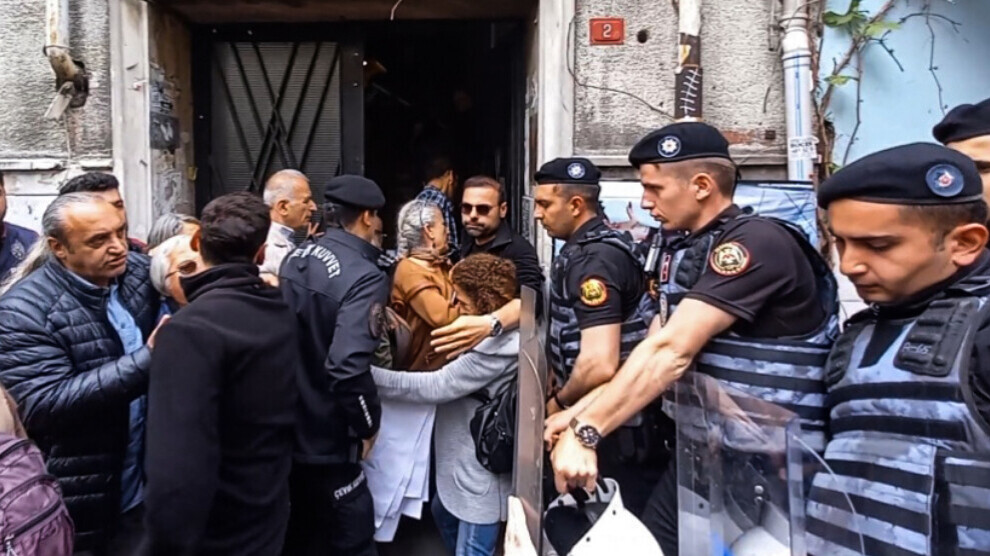 After the partly violent break-up of the vigil of the Saturday Mothers by the Turkish police, members of the initiative were targeted by another attack in Istanbul. A press statement planned in front of the Human Rights Association (IHD) office about the prevented sit-in at the square in front of the Galatasaray High School was also prevented. Anti-riot police besieged the small side street and forcibly pushed the activists, including some elderly people, into the building. The press statement was then delivered at the premises of the IHD.

Meral Nergis Şahin from the IHD board pointed out that the demonstration bans imposed week after week by the police and the district administration against the Saturday Mothers since 2018 were illegal. At the end of February, the Turkish Constitutional Court also found this to be the case and rejected an objection by the Ministry of the Interior, which justified the restrictions on the freedom of assembly and demonstration with an alleged threat to public order by the Saturday Mothers.
"The actions of the police make it clear that the Ministry of the Interior is pursuing a targeted policy of violence against the Saturday Mothers. This is clearly state terror," said HDP MP Musa Piroğlu. Remarking that the government has been ignoring an important ruling of the country's highest court for months, he stated: "They are resorting to unlawful detention and torture. Unless we raise a collective objection, the attacks of the state will continue. This is a problem that concerns the whole society. If we do not stand against it, the entire country will end up blockaded. Either we oppose it all together, or we get subordinated. It is our responsibility and duty to stand united against it."
Earlier in the day, members of the Saturday Mothers took to the streets in the central Beyoğlu district for the 947th time, asking for the whereabouts of their relatives who had disappeared in state custody and demanding punishment for the perpetrators. When the group reached the square in front of Galatasaray High School on Istiklal Avenue, they were immediately surrounded by police and journalists were forcibly pushed back.
Those detained during the course of today's vigil are: Hanife Yıldız, Eren Keskin, Besna Tosun, Ali Ocak, Sebla Arcan, Gülseren Yoleri, Hasan Karakoç, İrfan Bilgin, Ümit Efe, Leman Yurtsever, Hünkar Hüdai Yurtsever, Nazım Dikbaş and Taylan Bekin.