Saturday Mothers demand justice for Maksut Tepeli
27-year-old Kurd Maksut Tepeli was a teacher when he was murdered by the police in Istanbul in 1984. Although it is known where he was buried, the state still refuses to hand over his bones.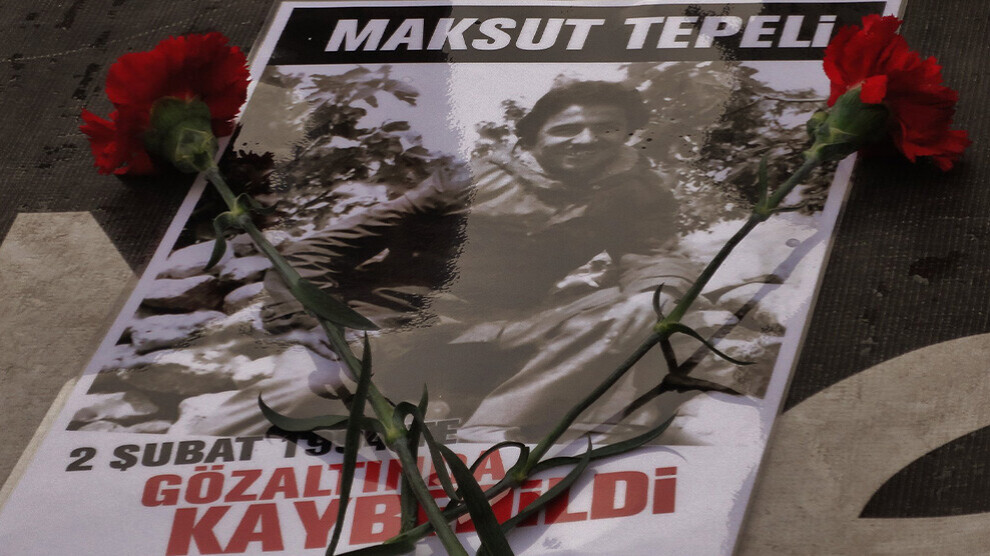 At its 881st vigil against "disappearances" in custody, the Saturday Mothers' Initiative demanded justice for Maksut Tepeli. The young Kurdish man was less than 28 years old when he was made to disappear by the political police in Istanbul after his arrest on 2 February 1984. Although the place where his bones were buried is known, the state refuses to hand them over. His relatives nevertheless do not give up their struggle. "We know the murderers of Maksut Tepeli and where he is buried. Give us his bones and punish the perpetrators," they demand.
Maksut Tepeli was born in 1956 in Varto district of Muş and was a teacher. He had taught in Mardin and Erzincan and, together with his wife Şehriban, who was also a teacher, was organised in the left-democratic education union TÖB-DER. In early 1980, the couple was remanded in custody for five months, and after their release, they settled in Istanbul. However, when the military staged a coup in September of the same year, Maksut and Şehriban Tepeli's names ended up on the "enemies list" of the regime. They went into hiding and spent several years in anonymity - until 2 February 1984.
On that day, Maksut Tepeli was on his way to a friend's flat in the Küçükbakkalköy district of Istanbul. When he realised that the door had been broken open, he tried to escape and was shot - the police had been observing the flat for some time and had taken up residence there on the day of the assault. Despite losing a lot of blood, Maksut Tepeli was wrapped in a blanket and taken to the police in Gayrettepe. According to three witnesses arrested during the same operation, he was tortured so severely by the police that he fell into a coma on 5 February and was admitted to Haydarpaşa military hospital. Since then, he was considered to have disappeared. The authorities denied that Tepeli was ever arrested.
Nineteen years later, Şehriban Tepeli, who returned to Turkey after years of exile, learned by chance that her husband had been entered in the family register by the authorities as "deceased". The date of death is given as 6 February 1984. Several complaints to the public prosecutor's office and intensive research by the Human Rights Association (IHD) revealed in 2006 that Maksut Tepeli had in fact died in hospital on 6 February 1984 as a result of his severe injuries and was buried anonymously in the Helvacıdede cemetery. The IHD was also able to establish the identity of his torturers. However, legal proceedings against the police officers involved in the arrest and interrogation, Rahmi Kaya, Servet Bozkurt, Hasip Dönmez, Zafer Elemen, Şeyhmuz Altın, İlhami Öztürk and Hikmet Taşdelen, have not taken place. After exhausting all legal options in Turkey, lawyers took the case to the European Court of Human Rights (ECtHR) in 2017. The case is still pending.