Saturday Mothers met for the 720th time
The Saturday Mothers got together for the 720th time to demand justice and the truth for those who disappeared while in state forces custody.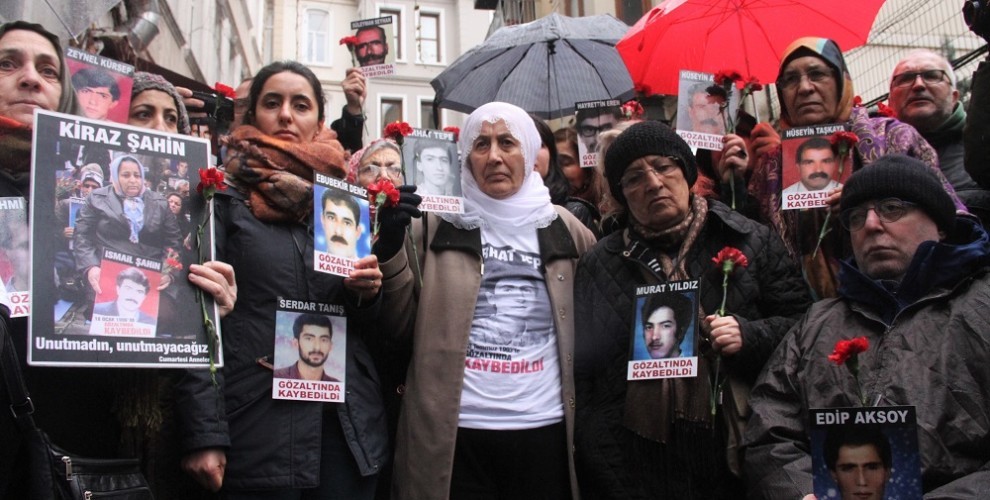 The Saturday Mother have been staging their sit-in for 23 years in Galatasaray Square, and on week 700 have been banned from 'their' square.
On Saturday they have met once again, despite the police blockade.
HDP MP Musa Piroğlu, film actor Nur Sürer, and representatives of many democratic mass organizations joined the action to remember DISK Genel-Is member Ismail Şahin, who disappeared after being taken into custody on 18 January 1996.
This week the Mothers' statement was read by Besna Tosun, the daughter of Fehmi Tosun, who also disappeared after being taken into custody.
Galatasaray Square banned
In Turkey, said Tosun, State forces have opened the door to heavy human rights abuses and violation by their repressive methods. She added that the State is actually not respecting the Constitution nor its obligations towards international human rights laws.
Stating that criticising this antidemocratic way of rule of the country is considered as a crime, Tosun said that freedom of expression and criticism are indispensable conditions in a democratic system.
Tosun reminded that they had been prevented from voicing their demands of justice and truth to the public for 21 weeks.
Erdoğan was mayor of Istanbul Metropolitan Municipality
Tosun told the story of Ismail Şahin, whose wife, Kiraz, died of cancer four years ago after a life-long battle to recover her husband's remains. Ismail had been taken into custody on 18 January 1996.
Tosun said: "We are demanding on behalf of Kiraz Şahin: Where is Ismail Şahin? Ismail Şahin, 36 and father of two, worked as a cleaning worker in Beyoğlu Municipality. He was a member of DISK Genel-Is Union.
On January 18, 1996, at 6:30 am, Ismail was working with two municipal employees and went on to clean a vehicle to begin with. He never came back. Two of his colleagues went to Mimar Sinan University and said that Ismail Şahin had literally disappeared with his cleaning broom in his hand.
Şahin family realized that these people were constantly crying and giving contradictory information and were clearly afraid to speak.
At the same time, Ismail's 4-year-old daughter said she saw her father on the television with policemen.
The family applied to Beyoğlu Municipality which in turn applied to the police headquarters which then filed a complaint to the prosecutor for a missing person.
Istanbul Metropolitan Municipality mayor at the time was Recep Tayyip Erdoğan and the families' attempts to meet him failed.
Kiraz Şahin was among the relatives of the disappeared who finally met Erdoğan in 2011, when he was prime minister.
Kiraz told Erdoğan: "My husband is your responsibility. He disappeared during working hours." Kiraz passed away in 2015 without having received any information about her husband.
Before she died, Kiraz Sahin said: "Nobody should ever say that I am dying of cancer. I'm dying because of the lawlessness of this country", recalled Tosun, adding: "Perhaps Kiraz would not have died had there been justice in this country. Sleep in peace, Kiraz, because hundreds of children, hundreds of mothers will continue to struggle. We will never give up this struggle. We will not give up Galatasaray Square. We will demand the perpetrators be brought to justice. The perpetrators walk around free, we don't have a grave to cry on. But our breath will be on their neck until we die."