Thousands of hunger strikers ask Turkey to comply with its laws
"To open the way for peace, the demands of the activists who lay their bodies into starvation, should be heard immediately, and the discriminatory language should be abandoned."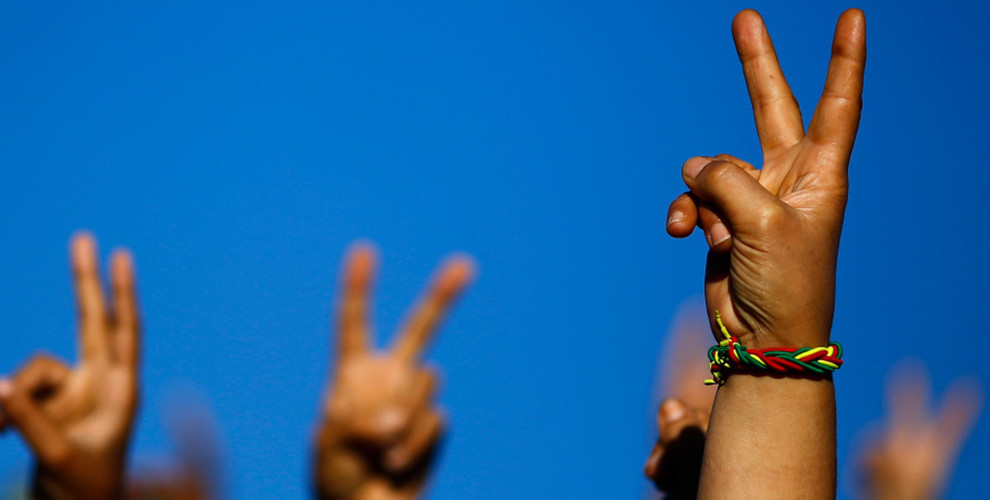 Ayşe Acar Başaran, HDP Spokesperson for Human Rights and Legal Procedures Commission, Member of the Central Executive Board and MP for Batman released a statement providing information on the latest situation regarding the hunger strike actions demanding an end to the isolation imposed on Kurdish People's Leader Abdullah Öcalan.
The statement said the following;
"The hunger strike initiated on November 8, 2018 by HDP Deputy for Hakkari and DTK Co-chair Ms. Leyla Güven to demand the termination of aggravated isolation imposed on Mr. Abdullah Öcalan at the Imralı Prison is now on 129th day. Nasır Yağız, in Erbil, is on 116th day, the first group of hunger strikers in prisons are on 91st day; the hunger strikers in Strasbourg are on 90th day; the hunger strike of Sebahat Tuncel and Selma Irmak reached day 60th.  While 335 prisoners in 67 prisons went on hunger strike on different days since 16 December 2018, thousands of political prisoners have declared that they would start irreversible and indefinite hunger strike since 1 March 2019. 
In Batman, Sedat Akın continues his hunger strike at his home after being released.  Akın's hunger strike is on 70th. day. Gurbet Ektiren, who started the hunger strike at Bakırköy Prison, continues her strike at her home, as well.
People are being arrested because they are on a hunger strike
Dersim Dağ, HDP Deputy for Diyarbakır, and party members Bilal Özgezer, İsmet Yıldız, Salih Canseven, Salih Tekin and Sevican Yaşar started an indefinite and irreversible hunger strike on March 3, 2019. All of these hunger strikers, except Ms. Dağ were detained.
As of 8 March, Tayip Temel and Murat Sarısaç, HDP Deputies for Van, and party members A. Halik Kurt and Yusuf Ataş started an indefinite and irreversible hunger strike in the HDP Diyarbakır Provincial Office. On the evening of 8 March, hundreds of police raided the HDP Diyarbakır Provincial Office, broke the doors and windows, battered our deputies Tayip Temel, Dersim Dağ and Murat Sarısaç, detained 7 activists. While deputies Dersim Dağ, Tayip Temel and Murat Sarısaç continue their hunger strikes, 4 of the 7 detainees were jailed for joining the hunger strike.
Hunger strikers show alarming symptoms
Bahtiyar Hasan Kemal, on hunger strike at Van F Type Closed Prison since 17 December 2018, has lost 16 kilos and is held in a solitary cell. Cihan Tamur, continues his strike in the same prison and he has bleeding in his mouth, nose and in his intestines. Tamur has wounds on his body and pain in his kidneys.  Tamur, suffering from a cardiac disease, faces high risk according to medical reports.
Dilbirin Turgut, the hunger striker at Tarsus Closed Prison for Women, is on 57th day of the strike and has begun to cough blood every other day. Nasir Yagiz, who continues his hunger strike in Hewlêr, lost a significant amount of weight and cannot stand up on his own without assistance. Most prisoners on hunger strike in prisons have serious health problems. There are symptoms such as myalgia and spasm; insomnia, dizziness, flaking on skin, weakness, difficulty in walking and standing, back pain, sensitivity to sound and smell, blurred vision and grayout.
The prison guards raided the wards of the prisoners on hunger strike at Elazığ Prison and battered prisoners Nevzat Demir and Tahir Temel. Guards have broken one of the prisoners' arm, subjected the prisoners to ill-treatment and moved them to single cells.
Newspapers are being banned arbitrarily, and the prisoners' right to receive information is violated!
In prisons where hunger strikes are ongoing, the Yeni Yaşam Newspaper, to which the prisoners are subscribed, has been banned by the Ministry of Justice and the prisoners' right to receive news is being severely violated.
This voice cannot be ignored anymore!
The hunger strikes, in the leadership of Leyla Güven and with the participation of thousands of detainees, politicians and activists, have grown to a point where the political power cannot ignore anymore. The isolation on Mr. Abdullah Öcalan is the biggest barrier before the social peace. To break down this barrier and open the way for peace, the demands of the activists who lay their bodies into starvation, should be heard immediately, and the discriminatory language should be abandoned."