TIHV and IHD call for an apology to Saturday Mothers
"This intervention and the detentions are nothing more than putting pressure on human rights defenders to make violations invisible, to obscure the truth, to prevent the quest for justice, in short, to deny the existence of human rights."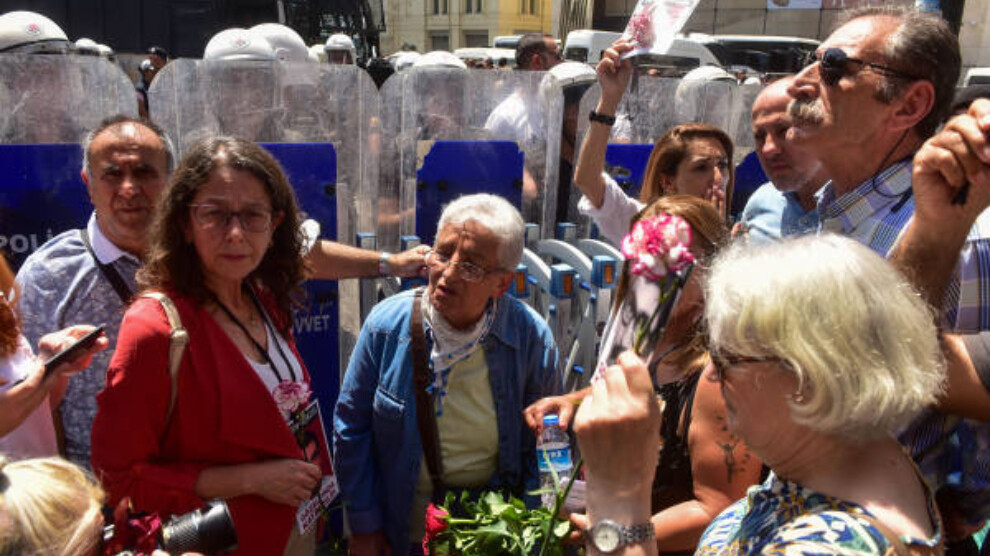 The Human Rights Foundation of Turkey (TIHV) and the Human Rights Association (IHD) released a statement in the wake of today's crackdown on the 900th vigil of the Saturday Mothers who seek justice for their relatives disappeared in state custody.
The joint statement released by TIHV and IHD on Saturday includes the following:
"The 900th vigil of the Saturday Mothers/People, who have been gathering peacefully in Galatasaray Square every week since 1995 demanding to know the fate and whereabouts of their forcibly disappeared relatives and to access justice, was once again prevented by law enforcement today.
For 27 years, Saturday Mothers/People have been subjected to oppression, harassment, excessive use of force, torture and other ill-treatment, arbitrary detention and unfair trials.  Since the 700th week of their peaceful vigils, they have been prevented, through the use of force and violence, from going to Galatasaray Square.
Enforced disappearance in custody, which is a black hole of our "civilization" where law, judiciary and justice remain silent and the message that the perpetrator is omnipotent is intended to be conveyed, is a gross and serious violation of human rights, including a certain period of unrecorded detention, accompanied by acts of torture and other ill-treatment, often resulting in death. The violation of the prohibition of torture and cruel, inhuman and degrading treatment also applies to the relatives of the disappeared.
It is because of these characteristics of enforced disappearance that the Saturday Mothers/People are determined and unadulterated human rights defenders who bear witness to these gross and serious human rights violations, i.e. to the truth, and keep a record of it and resist tyranny to make it visible. They are the voice of truth, the voice of the conscience of this society.
Today, on the occasion of their 900th-week vigil, they wanted to go to Galatasaray Square, which has become a space of memory and justice not only for Turkey but also for the international community. However, along with human rights defenders including İHD Co-Chairpersons Eren Keskin and Öztürk Türkdoğan, İHD İstanbul Branch Chair Gülseren Yoleri, Saturday Mothers/People Hanife Yıldız, Maside Ocak, Besna Tosun, İrfan Bilgin, Hasan Karakoç, İkbal Eren, Ali Ocak, Mikail Kırbayır, Zeynep Çelik, Arat Dink and their lawyers Jiyan Tosun, Davut Arslan and Jiyan Kaya were detained by the police.
This intervention of the law enforcement and the detentions are nothing more than putting pressure on human rights defenders to make violations invisible, to obscure the truth, to prevent the quest for justice, in short, to deny the existence of human rights.  This unacceptable oppression and denial must stop immediately. Detained human rights defenders should be released immediately and an apology should be made to the Saturday Mothers/People."