Women's Initiative UK takes over Öcalan Vigil
The Freedom for Öcalan Watch in Strasbourg, France was taken over by the Women's Initiative UK this week.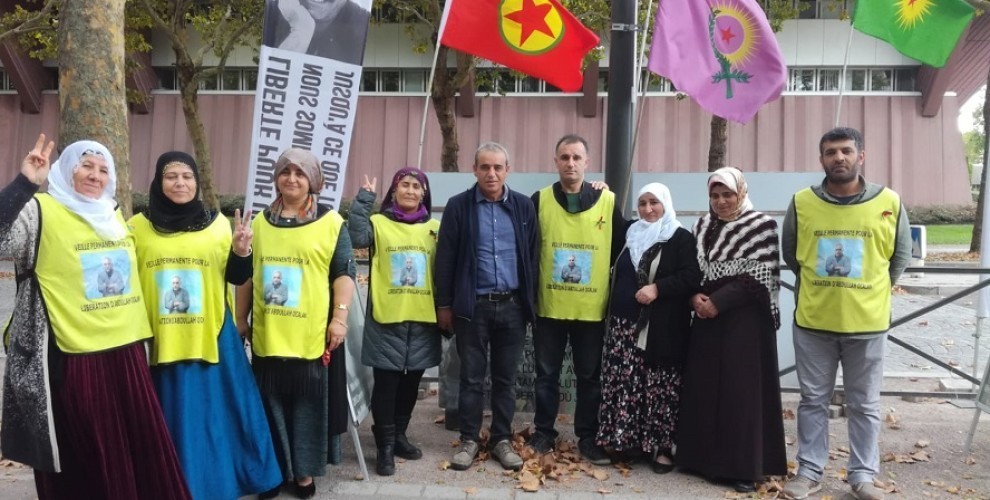 As the Freedom for Öcalan Vigil demonstration in front of the Council of Europe (CoE) enters its 327th week, the demand for Öcalan's freedom is voiced with participation from different countries.
The demonstration was led by Kurdish patriots from Evry, France last week, and Fidan, Sureyya, Gulistan, Makbule and Neslihan from the Women's Iniative UK and Sinasi, another Kurdish patriot have taken over on Sunday.
The Women's Initiative UK members issued a statement and stressed that the Kurdish people not hearing any information on Öcalan for 2 years is cause for great concern.
"THE NEW ISOLATION VERDICT HAS INCREASED CONCERNS"
The statement said the Bursa Executive Court No.1 recently issued a new verdict on Öcalan and the other prisoners in Imrali, Hamili Yildirim, Omer Hayri Konar and Veysi Aktas by the demand of the Bursa Chief Public Prosecutor's Office, and pointed out that the verdict that foresees a new 6 month ban has increased concerns.
CPT REMINDED OF ITS DUTY
"We as the Women's Initiative don't recognize this verdict," said the protesters and called on the Committee for the Prevention of Torture (CPT) and other European institutions to take action. The Women's Initiative members stressed that the isolation imposed upon Öcalan must end and the situation must be inspected in situ.
"Our most basic demand as activists is that the concerns of the Kurdish people be addressed," said Women's Initiative UK members and called on the Kurdish people. The activists said, "Our call for all Kurds is that they voice these rightful demands within the democratic framework."
CONTINUED FOR 6.5 YEARS WITHOUT A DAY MISSED
The Freedom for Öcalan Vigil had been launched on June 25, 2012 with the suggestion of the International Initiative for Öcalan as an intense isolation had been imposed upon Öcalan. The Freedom for Öcalan Vigil was inspired by the freedom vigils against South African leader of the freedom struggle Nelson Mandela's imprisonment, but the most significant difference is that Freedom for Öcalan Vigil has continued to date with no breaks.
The Vigil is also significant as the longest uninterrupted action by the Kurdish people and will continue until the Kurdish People's Leader is free.