Action of guerrillas' mothers in its 10th week
Guerrilla mothers condemned the military deployment of invading Turkish state and KDP to Medya Defense Zones in the 10th week of their protests.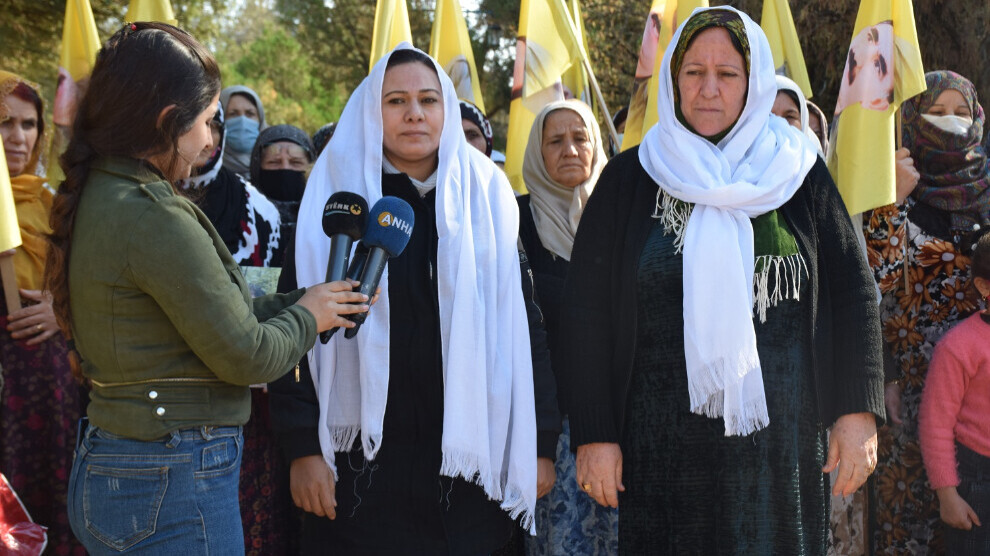 In the 10th week of the protest, mothers of martyrs and guerrillas conveyed the motto of the action: "resistance until the end of the occupation".
In the demonstration held in Qamishlo park, the photos of martyrs, Kurdish leader Abdullah Öcalan and the flag of the Kurdistan Freedom Movement were carried. The statement on behalf of the mothers was read by Guerrilla Zinarîn Botan's sister and a mother of two guerrillas, Rodîn Isa.
"We do not accept this attitude of the KDP and AKP towards Kurdistan. The Kurdish people and guerrillas will continue their struggle until the lands of four parts of Kurdistan are liberated. As guerrillas' mothers, we promise our revolutionary children that we will follow them. We are ready to do whatever is asked of us."
Mothers Mîrhat Anaroj, Zinarîn Welat and Eqlîme Hisên condemned the attacks of the Turkish state against Media Defense Zones, Shengal and Rojava Kurdistan and said; "We condemn these attacks. We support our guerrilla. The invading Turkish state claims that it has entered and surrounded the guerrilla areas. The enemy should know this well that they will never be able to separate us from our children."
At the end of the statement, mothers of guerrillas and fallen fighters promised their children that they would continue their struggle and actions until they remove the invaders from these lands.