Economic crisis drives chicken farm in Hakkari to ruin
Rabia and Resul İhtiyatoğlu run an organic chicken farm in Hakkari. Due to the economic crisis in Turkey, the parents of three children are facing ruin.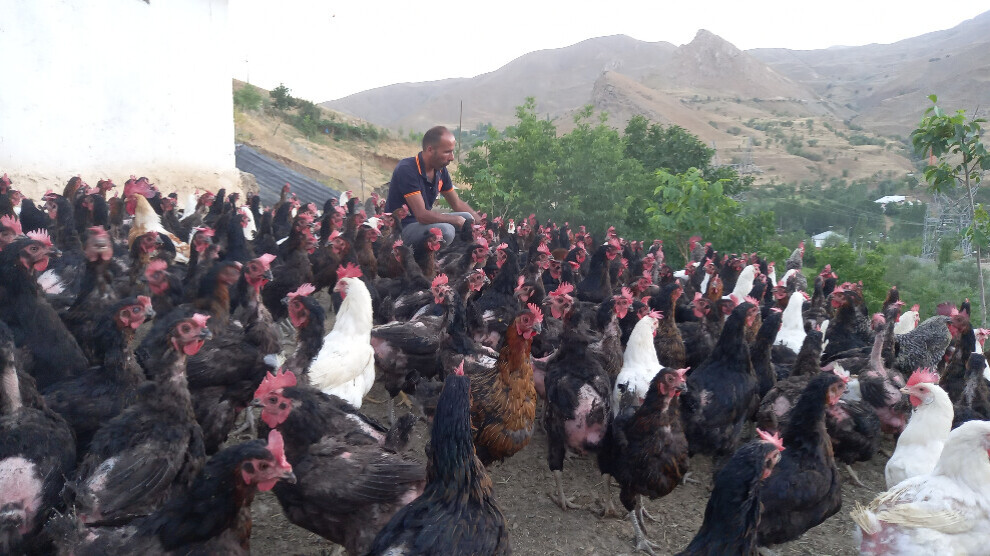 The Kurdish province of Hakkari is located in the extreme south-east of Turkey. Unemployment is high, poverty is great. There is almost no production of its own, most products are supplied from other regions. There is a severe economic crisis in Turkey and everything is becoming more and more expensive.
Resul İhtiyatoğlu used to work as a technician. Then he was arrested for political reasons and spent five years in prison. After his release, he could not find a new job. After a long search, the father of three children finally started a chicken farm.

İhtiyatoğlu says there is no investment and no production in Hakkari. 99 per cent of all food comes from other regions. "It is difficult under the circumstances here, but I have been doing this work for two years now. Last year we were doing better, but this year we are also feeling the economic crisis. Business is bad. The feed for the chickens is supplied from outside and is therefore very expensive. Last year we sold a pallet of eggs for twenty liras. This year, the pallet already costs seventy liras, and still we don't earn anything with it," says the Kurdish chicken farmer.
In the beginning, İhtiyatoğlu and his wife Rabia kept over a thousand chickens. "Because of the economic crisis, feed is very expensive. We had to sell 400 chickens to make money for feed. We can't afford the feed and we don't earn enough to support the family. I don't know how to go on. We don't get any support and because we can't feed the chickens well, we don't get good products. There is potential for customers in Hakkari, but because the prices of wheat and feed keep going up, we have no profits. If it continues like this, we will have to close the farm. I like this work, but the cost of living is very high. I am mostly worried about the future of my children."
Rabia İhtiyatoğlu states that she has had problems making a living for many years and could not find a job anywhere. When her husband had the idea of the chicken farm, she supported him: "We started this work together. In the beginning, the feed prices were affordable, and we could make ends meet. With the economic crisis, feed prices went up a lot."

The chicken farmer contradicts the government's pronouncements that domestic production is supported: "We don't get any support at all. It is very difficult for us to stay on our feet. At the moment, we still keep 500 chickens. We start very early in the morning, clean the coop, and feed the chickens. Then we let them outside and air the coop. There is a high demand for our eggs because people want products from organic animal husbandry. There is almost no food production in Hakkari, almost everything comes from outside. There is no production, and everything is based on consumption. My husband and I try to keep our chicken farm going."