German HPG guerrilla Panser martyred in Turkish airstrike
"We remember all our international martyrs in the person of Comrade Bager Nujiyan. We promise to uphold the values created by our martyrs and achieve victory," said HPG.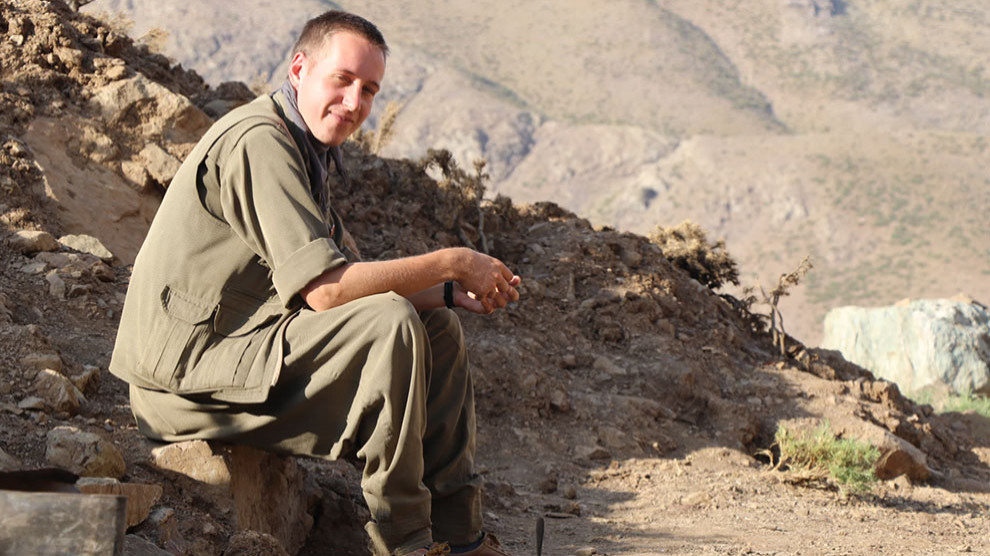 HPG Press Center announced that German guerrilla Bager Nujiyan (Michael Panser) was martyred in an airstrike by late 2018.
HPG said, "In an airstrike by the invading Turkish army on December 14, 2018 in Medya Defense Zones, our comrade German citizen Bager Nujiyan (Michael Panser) was martyred."
The ID information of the martyred guerrilla is as follows:
Nom de Guerre: Bager Nujiyan
Name: Michael Panser
Place of Birth: Germany
Mother's and Father's Name: Bettina – Hans Ulrich
Date and Place of Martyrdom: December 14, 2018 / Medya Defense Zones
A SOCIALIST LEADER FROM ZAPATISTAS TO HPG
The announcement continued with:
"Comrade Bager Nujiyan was born in Germany in 1988, and he was raised there. Comrade Bager grew up in a socialist family tradition and went to seek the truth with his socialist awareness. Comrade Bager knew that a meaningful life is only possible through a righteous struggle, and he had a past that stretched from Germany to Mexico, Colombia, Venezuela and Nicaragua. Comrade Bager was an internationalist, who fought alongside the Zapatista guerrilla, and became a true leader for socialism. During his philosophical and ideological quest, he came to know Leader Apo and read his Defense. He joined the PKK in 2017 for the fight for freedom by the Kurdish people and the peoples of the Middle East. In ISIS attacks against Kurdistan, he defended Kurdistan without hesitation.
HE LEARNED FLUENT KURDISH IN NO TIME
Comrade Bager immersed himself in the philosophy of the Leader with great enthusiasm and adapted to the mountain life quickly. Comrade Bager worked to fortify the internationalist viewpoint on strong foundations, and sought to better himself in terms of guerrillaism, language, culture and art. He was an example to all comrades with his disciplined, humble and resolute life with high morale, and had become a stand-out militant with his Kurdish that he learned to speak and write fluently in a short time.
Comrade Bager took his place in the Kurdistan Freedom Struggle like our international martyrs Haki Karer, Kemal Pir, Andrea Wolf (Ronahi), Uta Schneiderbanger (Nudem), Jacob Riemer (Siyar), Sarah Handelmann (Sara) and many others. He became a good example of solidarity among peoples, and earned a place for himself with the value he added to the freedom movement.
The esteemed Panser family cannot be proud of Comrade Bager Nujiyan enough for becoming a symbol in the struggle for freedom. We offer our condolences to the esteemed Panser family for this immense loss, and remember all our international martyrs in the person of Comrade Bager Nujiyan. We promise to uphold the values created by our martyrs and achieve victory."
RELATED NEWS: