Massive destruction and lack of aid after the earthquake in Khoy
There have been a number of earthquakes and aftershocks in the border area between Northern and Eastern Kurdistan during the past 24 hours. Numerous houses have been demolished in dozens of villages where hundreds of people were injured.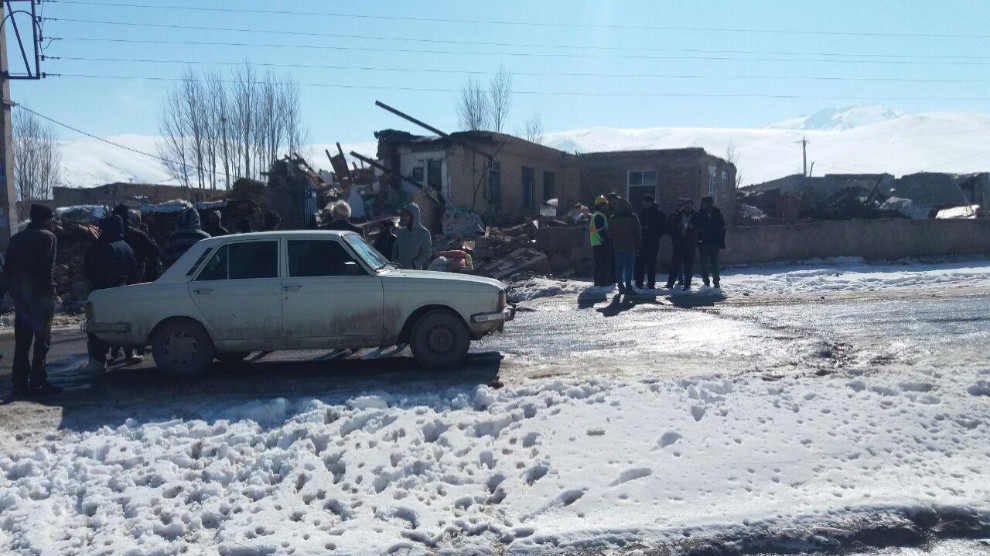 A 5.9 magnitude earthquake shook the border between Northern Kurdistan (Bakur) and Eastern Kurdistan (Rojhilat) Sunday morning. This was followed by another earthquake of 5.8 magnitude and several aftershocks yesterday.
On Monday, yet another earthquake, of 4.3 magnitude, has occurred at 18:05 local time in Khoy city of Eastern Kurdistan bordering the Van province in Northern Kurdistan. The earthquake was also felt in the city of Salmas.
The region has witnessed numerous aftershocks since Sunday morning. The first earthquake at 08:53 local time killed 9 people in villages in Van's Başkale district, while at least 250 houses and 300 stables were destroyed and hundreds of houses damaged.
Monday's earthquake left at least 104 people injured in the Khoy city and 44 villages unlivable, the biggest of which is the Gugerd village where 400 families live.
Images obtained by ANF show numerous houses lie in ruins. The villages hit by the earthquake are covered in snow.
People continue to stay outside on the streets despite the freezing weather amid reports that the aid provided by the Iranian regime is insufficient.
Eastern Kurdistan experienced a destructive earthquake in 2017, the traces of which are still alive. At least 620 people lost their lives and 8,500 others were wounded in the earthquake of 7.3 magnitude that occurred on November 12, 2017 in Kermanshah. The biggest in Iran for the last 10 years, the earthquake cost over 70.000 people their homes.
RELATED NEWS: