People of Makhmur bid farewell to five fighters
Thousands of Makhmur residents gathered together to bid farewell to five fighters who were killed in a Turkish airstrike on Wednesday.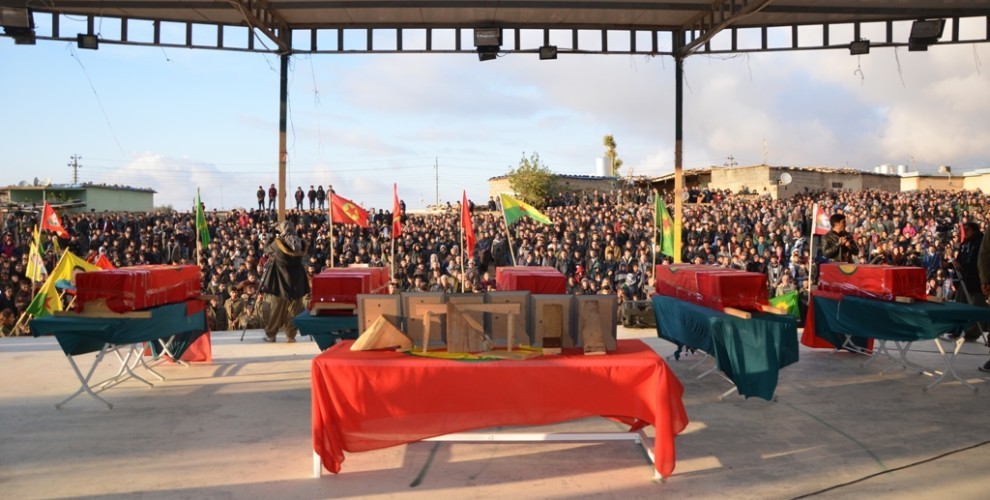 A funeral ceremony was held for five members of Makhmur Self Defence Forces who were killed in yesterday's airstrike in Makhmur Refugee Camp, aka Martyr Rustem Cudi Camp.
Holding posters of the killed fighters, thousands of residents gathered together in front of Makhmur Culture and Art Center and chanted slogans that condemn the attack by the Turkish state.
A statement by Makhmur People's Council was read at the ceremony: "There was an attack against Martyr Rustem Cudi Camp on December 6, at 18:45. The target of the attack was Makhmur Self Defence Forces.
Members of Makhmur Self Defence Forces Botan, Baz, Cekdar, Bager and Devran fell martyr and three others were wounded in the attack. This attack was against Kurdish people not only the people of Makhmur.
Makhmur Self Defence Forces were established for the security of people of Makhmur during ISIS attacks in Mosul. When ISIS started attacking Makhmur, Makhmur Self Defence Forces fired the first bullet and stopped the gangs.
Makhmur Self Defence Forces showed a historic resistance and defeated ISIS gangs. (…) A force that fought heroically against ISIS was attacked. This attack was carried out by the fascist Turkish state and Erdogan. But this area is in Iraq and Kurdistan region. It's 100 kilometres away from the Turkish border. As people of Makhmur we want to know what kind of a relation was built so this attack was carried out. About this matter, we want to hear the reactions of Iraq, Kurdistan region and other powers. It's clear that this attack serves the interests of ISIS and they want to take revenge of ISIS."
The council called on UN to fulfil its responsibility of securing the camp and said that targeting a refugee camp is a crime against humanity."
After the statement, thousands bid farewell to five fighters.
The crowd chanted "Martyrs Don't Die!" and "Long Live Our Leader Apo".