State terror in Van: "We were mistreated because we are Kurds"
During an arrest operation in Van, soldiers fired hundreds of shots into the air, beat villagers unconscious, called them racist names and threatened them.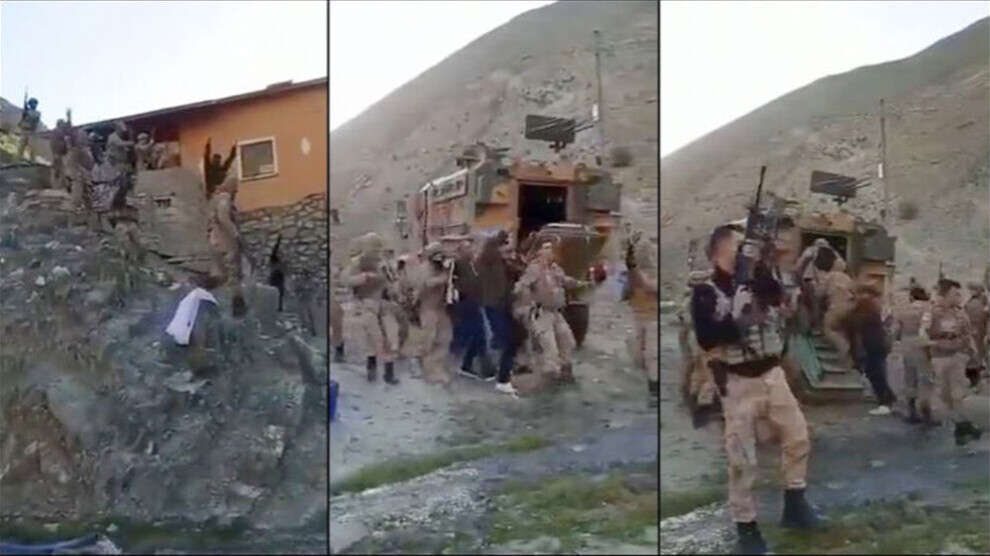 It is difficult to find a term other than state terror for the actions of the Turkish forces in their arrest operation in the village of Xaşkan near the Başkale district of Van. Turkish soldiers stormed the village on 20 June, abusing the inhabitants and firing hundreds of shots into the air. This is one of the few cases where the brutality of the security forces in rural Kurdish regions has been documented on video.

"They threatened us with death"
After the raid, villagers collected some of the bullet casings that had been fired. So far they have counted 400 of them. Relatives and neighbours of the arrested Mehmet Emin Atlı told the Mezopotamya news agency (MA) about the attack. Abdulhamit Atlı stated: "Soldiers raided the house after surrounding the village early in the morning. Atlı's wife and daughter were beaten by the soldiers. We collected 400 cartridge cases in our village. They threatened to kill us."
"Beatings with rifle butts, gunshots and insults"
Atlı reported that he asked the commander of the soldiers to act according to "law and order" and asked, "What kind of law are you applying by hitting with rifle butts, shooting and insulting? There is no army fighting here. Why are you firing so many shots here?" He continued, "At least a thousand bullets were fired here. We have collected only a part of them. There are laws in Turkey. Can these apply differently in the West and here? We were insulted in the worst way. They did this to us even though we had done nothing at all against the soldiers."
Daughter pushed off stairs
Ayten Atlı, the daughter of the arrested man, reported that the police stormed their house around six in the morning. She said: "I saw hundreds of soldiers in front of our house. I asked the soldiers why they had come. They explained that they were going to search the house. When I asked them to show me the search warrant, they started pushing me. That is why I explained to them that I had just had an operation. Although I had told them that, they pushed me off the stairs. After the fall, I could not stand up. Because of that impact, I have pain and swelling in my lower back."
"We are not sure of our lives"
Atlı reported that the soldiers kept shouting at her and shooting into the air for minutes. "It was such a hopeless situation, we couldn't find a place to flee to. The whole settlement was under permanent military control anyway." Ayten Atlı, who sees the soldiers' actions as an expression of anti-Kurdish racism, said: "It was so obvious that they had not come for an arrest. It was as if they had come to take revenge. They beat me and my mother for minutes. It was sergeant Mehmet K. who beat us the hardest. We will file a complaint against this person. There is clearly racism here. If they continue to pressure us in this way, we will have to leave here. Because we are no longer sure of our lives. We are very afraid that anything could happen again at any moment."
Call for solidarity
Ayten Atlı called for solidarity and protest: "We have been oppressed for years. We had no proof before, but now we have some. We were beaten by soldiers in front of our house. If this beating is not because we are Kurds, then what is it? We want justice. That's why everyone should get involved and stand by our side."
Kicked on the ground by soldiers
Dilber Atlı, the wife of the arrested man, told how a soldier kicked her leg and she fell down. She stated; "When I fell to the ground, they continued to beat me. They hit my husband and tried to put him in the vehicle. They started shooting because I protested against it. I still have kick marks and bruises on my leg. Our children are psychologically destroyed. We were abused and insulted. How can a soldier of the state do such a thing? Is there no such thing as law and order anymore? Is it the job of soldiers to torture people? We do not accept this situation and will address the necessary authorities. We want those who committed these atrocities against us to be held accountable before the law."