Thousands march in Kobanê to defend Shengal's status
The agreement between the KDP and the Iraqi government regarding Shengal was protested with an action organized in Kobanê.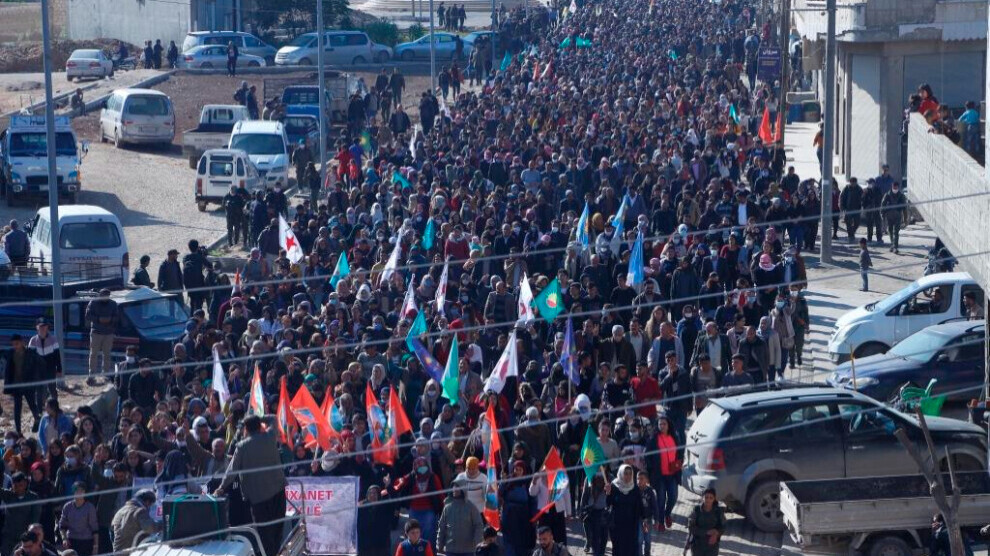 A march in Kobanê protested the agreement between the KDP and the Iraqi government regarding Shengal.
Thousands of people gathered in the Free Woman Square to protest the agreement.
People marched towards Martyr Egîd Square. The marchers carried banners saying "No to the Turkish occupation, long live the Shengal Autonomous Administration".
The march turned into a rally in Martyr Egîd Square. Speaking at the rally on behalf of the Kobanê Canton Council, Barin Kobanê condemned the attacks of the invading Turkish state against Shengal, and the cooperation of the KDP.
Barin Kobanê said: "When Shengal was suffering the massacre carried out by ISIS, they did not defend Shengal. Today, they are making a decision on behalf of the people they didn't defend and want to destroy the freedom life built by the people."
On behalf of the Euphrates Region Autonomous Administration, a statement was read by the Co-Chair of the Executive Council, Muhammed Şahin.
The statement said that as a result of the withdrawal of the Iraqi and Peshmerga forces from Shengal, thousands of people faced death and thousands of women were sold in markets 6 years ago.
The YPG, YPJ and HPG rescued the people of Shengal preventin further massacre.  "Hundreds of martyrs were given and the people of Shengal were rescued. Then people returned to their lands and started to organize. However, this did not last long and once again the people of Shengal have to face new dirty plans."
The statement added: "We call on the free world and human rights organizations to support the free and peaceful Yazidi society which want to protect people's gains. We urge everyone not to negotiate about the fate of the people."