Three guerrillas martyred in Xakurke
Three guerrilla fighters died during an air attack of the Turkish army in Xakurke region in Southern Kurdistan.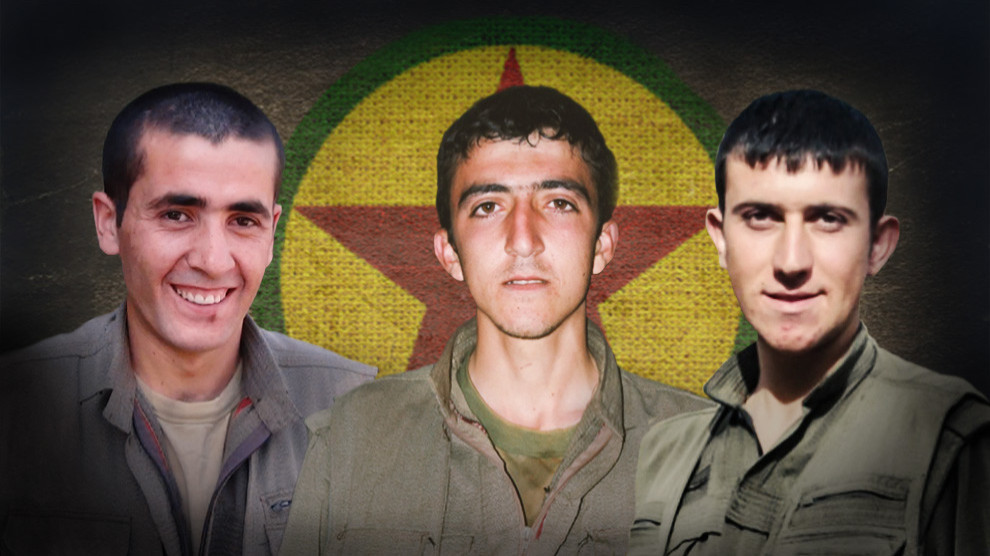 The Press Office of the People's Defense Forces (HPG) has published the names of three fallen guerrilla fighters. Amed Pasûr, Berxwedan Şervan and Helgurt Siyabend were martyred on September 11 in a Turkish air strike in the Ermuş area in Xakurke region of Southern Kurdistan (Northern Iraq).
HPG described the three martyrs as "sacrificial militants" who fought in the front line for the defense of Kurdistan against the occupiers and fulfilled their responsibility.
The ID details of the three guerrillas are as follows:
Nom de Guerre: Amed Pasur
First-Last Name: Barış Can
Birthplace: Adana
Mother's - Father's Names: Mukadder – Hasan
Date and Place of Martyrdom: 11. September 2020 / Xakurke
***
Nom de Guerre: Berxwedan Şervan
First-Last Name: Nevzat Orhan
Birthplace: Van
Mother's - Father's Names: Zümrüt – Hasan
Date and Place of Martyrdom: 11. September 2020 / Xakurke
***
Nom de Guerre: Helgurt Siyabend
First-Last Name: Fesih Karakaya
Birthplace: Muş
Mother's - Father's Names: Nebahat – Zeki
Date and Place of Martyrdom: 11. September 2020 / Xakurke
According to the statement, Amed Pasur's family comes from the Kurdish resistance stronghold Amed (Diyarbakir) and moved to Adana before his birth. Nevertheless, Amed grew up in a patriotic and tradition-conscious environment and became acquainted with the liberation movement early on. Aware of the dirty policy that the Turkish state is pursuing against the Kurdish people, he decided to fight against fascism with the guerrilla in the mountains.
Berxwedan Şervan was born in Van and joined the PKK as a guerrilla fighter to defend the values of his people. In the mountains, he constantly developed and tried to share his knowledge with his companions.
Helgurt Siyabend was born in Muş in Northern Kurdistan. He did not accept the oppression of his people and was active in the Kurdish youth movement as a student. From there he joined the guerrilla, where he contributed with his modest personality and his commitment to an atmosphere of love and respect among the fighters.
HPG expressed their sympathy to the families of martyrs and patriotic people of Kurdistan and promised to avenge the fallen and to realize their ideals of freedom.