"We can achieve success by establishing national unity"
Former peshmerga Abdullah Yusuf Silêman said: "Kurds should evaluate the current process well. We can achieve victory by establishing national unity."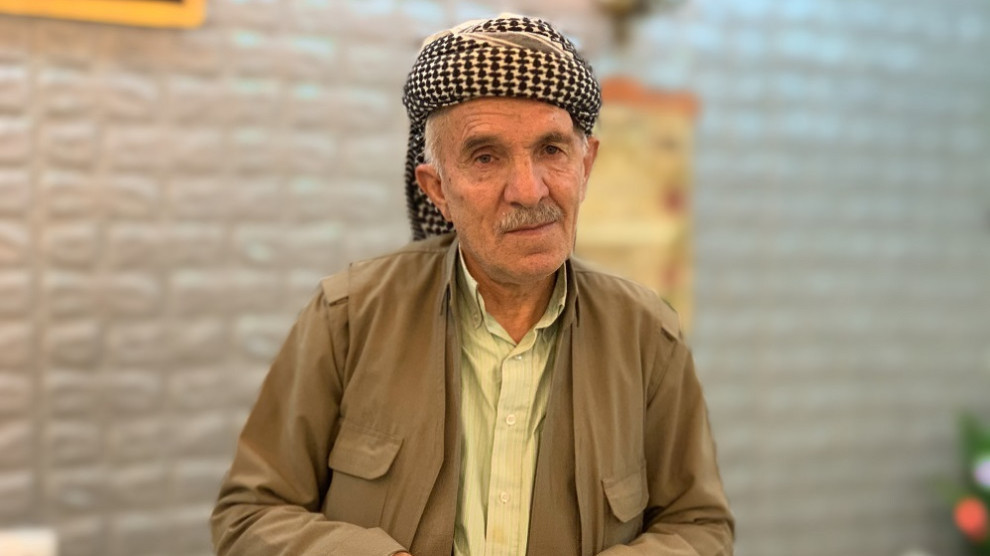 Following the Turkish state's attack on North-East Syria, the issue of national unity of the Kurds is once again on the agenda.
Former Peshmerga Abdullah Yusuf Silêman, who lives in the village of Roboski, in the Uludere district of Sirnak, called for the establishment of national unity.
Silêman, who served as a peshmerga in Southern Kurdistan in 1976, said: "I crossed the border for Southern Kurdistan gains and served there until 1982. I fought for the land of Kurdistan. There are now new attacks on the territory of Kurdistan. The Kurdish people must unite against these attacks. Indeed, is almost late for unity."
Silêman added: "They divided Kurdistan into four parts against the will of the Kurds. If there is an attack on one of the parts, the Kurds should move together and protect their land. We're in Roboski now, but we have relatives in Duhok. We Kurds are one nation. We have to go to any part of Kurdistan which is in danger, we have to protect our land."
The time of unity is now
Abdullah Yusuf Silêman said that the people of Kurdistan have gone through an important and critical process and added: "The whole world now knows the Kurds. National unity is the dream of all Kurds. The time has come, this historic opportunity should not be missed. I call on all Kurds, Kurdish institutions, parties, Kurdish organizations to come together and produce solutions. The Kurds are now a leading force and attract the attention of the whole world."
The former peshmerga continued: "A partial stance does not suit the Kurds. We, like everyone, demand our legitimate rights. I served in Başur and Rojhilat for years. I did not serve for a party or organization. I served for the land of Kurdistan. Now, if I were asked, I would be ready to go in any country. Everyone should put aside their personal interests and come together to form an alliance. If we don't form an alliance, we're gonna get killed, massacred. Everyone occupies our land. So unity is something we need more than water."
National unity is needed to defeat attacks
Speaking about the Roboski massacre, Abdullah Yusuf Silêman reminded that 34 people, 19 of them children, were massacred 8 years ago as a result of the bombing carried out by the Turkish Armed Forces on 28 December.
"If we had an alliance - he said - our children would not have been slaughtered in their own land. Because we are not united, Kurds are being slaughtered everywhere. If we were united, there would be no massacres against the Kurds in Bashur, Bakur and Rojava. Therefore, the Kurds must firstly form an alliance. When we establish our national unity, we can succeed and prevent attacks."