YJA Star Commander addresses guerrillas: "This is a war of existence"
Addressing the guerrillas, YJA Star Commander Hêzil Özgür said that "We can defeat the fascist enemy in this country if our comrades use their talents. We must transform the 'lock' operation they began into the lock to open Imrali's doors."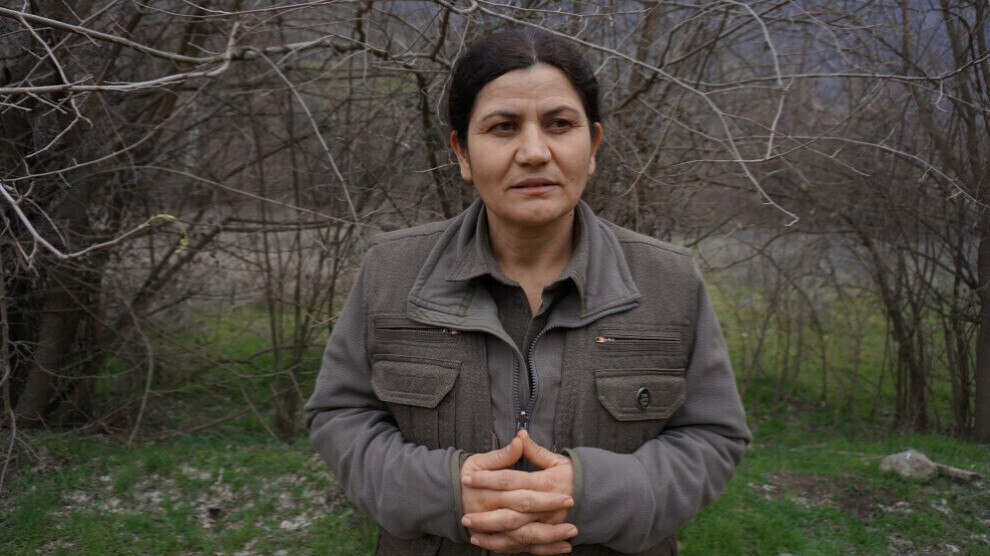 Hêzil Özgür, one of the commanders of the Free Women's Troops (YJA Star), on Tuesday (May 10) addressed over the radio to the mobile guerrilla teams and guerillas in the battle positions about the invasion operation conducted by the Turkish army against the guerrilla-held Medya Defense Zones in southern Kurdistan (northern Iraq).
The messages of Hezil Özgür are as follows:
'THE ENEMY WAS SHOCKED!'
"The invasion attack has been going on for 26 days. They have been conducting an air operation over the general region since the 14th of April alongside intense air attacks and bombardments. We base the operation's start date on that date. The invading fascist Turkish regime is relying on its techniques to conquer our lands in the initial strikes. But it didn't work. As a result, their defence minister was forced to issue a statement in which they pretended to have a first, second, and third plan. This is because of the fact that they were unable to accomplish the operation which they launched that very night under the codename Claw-Lock.
This result was brought about by our comrades' resistance and responses to the attacks. Our comrades' dedication and preparations before the operation were excellent. Of course, there were problems which we are now assessing among ourselves. However, the enemy was taken aback by the first move in Zap and Avaşîn territories. They have admitted this themselves. Fascist Erdogan and Hulusi Akar had already arrived at the operation checkpoint in Çelê (Çukurca) and spoken with the operation's commanders beforehand. They admitted there, too, that they were trying to protect themselves and that they suffered losses. According to information provided by local sources, several wounded soldiers and the corpses of many others have been taken to hospitals, and there are no more beds available.
We salute our comrades for their courage and resistance. A totally different environment of resistance was created, especially in the persons of Saristan and Mizgin, and tremendous blows were inflicted on the enemy, thanks to the response and spirit created by the comrades who have been martyred since the first day of the operation. We will always be grateful to those martyrs, and we promise to make this year the year of victory.
'A WAR OF EXISTENCE'
We cannot view this operation as merely an attack centred on Zap and Avaşîn. Furthermore, this operation is not exclusively directed at us. They are using fascist methods to assault all of our comrades in the prison. Massacres are being carried out against our patriots. They are murdering our children and dragging our mothers on the streets. That is why this war is a total war against all Kurds. First and foremost, there is a war being waged against our Leader. Citing various reasons, the Leader is prevented from meeting with his family or lawyers. They are attempting to cut him off from the rest of the world. This is a psychological, political, and ideological assault against the Leader. The existence of the guerilla today is the power that keeps them from doing further harm to the Leader. That's why they informed the Leader, 'We'll handle those outside first and come back to you later.' That is why the process we are going through is so crucial and sensitive. In every way, we must be more sensitive. They aim to seal off our areas, finish off the guerilla, and then turn to our Leader. That is why we refer to this war as a War of Existence.
'THIS YEAR MUST BE THE YEAR OF VICTORY'
To crush the enemy's attacks, we must keep a long-term account of this war. This is not a one-day conflict; it is a long-lived one. The treacherous line collaborated and organized all of its resources, paving the way for the Turks to attack Kurojahro. That is why we are fighting not only one enemy but also NATO technique and treachery. Even during the Ukraine war, they could turn a city upside down in a month. They arrived in Ukraine's capital in a week. However, the enemy has not made any progress in the 26-day war here. This is due to the resistance and striking manner of our comrades.
First and foremost, we want to thank our comrades in the war tunnels for their participation and outstanding manner of strikes. At the same time, the mobile teams on the ground worked hard and achieved to prevent the enemy from approaching the war tunnels. Our most successful acts this year have come from these field teams, who did not even allow the enemy to airdrop soldiers. We thank and congratulate every one of our comrades who have participated in these teams and carried out these excellent actions.
This year must be the year of victory. The AKP also sees this war as one of existence. "We cannot take a step back," Turkish government officials stress in every declaration. If they were successful, they would announce that 'We are moving forward' anyway. This explanation demonstrates how they feel stressed. That is why we can break the fascist enemy in these lands if every one of our comrades uses its talents and branches with tremendous accuracy. We need to get them to the point where they can't take a step forward and teach them a historical lesson. We must transform the 'lock' operation they launched into the lock to open Imrali's doors.
Comrades should take precautions to avoid becoming the target of techniques. We must both attack the enemy and protect ourselves. They will adopt a defensive mindset if they do not know where and when the guerilla will strike. As long as we hold the initiative, the enemy will be on the defensive and will not know where they will get struck. Those who suffer from the psychology of perpetual defence are condemned to failure. The enemy's warplanes, reconnaissance aircraft, howitzers, and artillery are nothing new to us, and we have a solution for all of them. They use chemical weapons and set off bombs against battle tunnels. They've utilized these techniques before. These attacks also provided us with valuable experience. As a result, nothing stands in our way. Therefore, we know that our comrades will take a more professional and cautious approach to the emerging war this year. This has been demonstrated by the 26-day span we have left behind. We salute the resistance and attack spirit demonstrated by mobile teams in war tunnels and on the battlefield, and we wish all of our forces success."